Music
Couch Seats | Watch Amazing Live Music Videos - StumbleUpon. Amazing Tron Dance performed by Wrecking Orchestra [Better Quality] The Happiest Playlist EVER!!! | heikidd17 | 8tracks. Beatles_-_Hey_Jude.html from berkeley.edu - StumbleUpon.
METRONOME ONLINE - free! - StumbleUpon. "One Man Disney Movie" Nick Pitera Disney Medley Music Video. We No Speak Americano ft. Cleary & Harding. Jack Johnson. Hey You! What Song are you Listening to? NEW YORK. Compose by Ouyang Xi, He Binbin, Zeng Li & Li Bo & Yanko Design - StumbleUpon. Compose Music All High Tech Like Have you ever caught yourself whistling a made up tune and thought to yourself, "hey this could be a hit song!"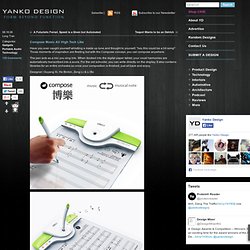 Those moments of inspiration are fleeting but with the Compose concept, you can compose anywhere. The pen acts as a mic you sing into. When docked into the digital paper tablet, your vocal harmonies are automatically transcribed into a score. For the old schooler, you can write directly on the display. 90s Music Videos. 50 Worst Music Videos Ever | #43 - Journey – 'Separate Ways (Worlds Apa... 500 Greatest Albums: Some Girls - The Rolling Stones.
Musics 50 Favorite Albums of 2011 : NPR - StumbleUpon. 50 Best Music Videos Of 2011 | NME.COM. Remove The Lyrics From MOST Songs - StumbleUpon. Soundcloud.musikame.com from musikame.com - StumbleUpon. Maria Aragon - Born This Way (Cover) by Lady Gaga. 90's Megamix. Kid plays instrument awesomely EPIC MUST WATCH. Pale kid raps fast.
---