Gift ideas
39 DIY Gifts You'd Actually Want To Receive. Paint chip greeting cards | Chica and Jo. Like most of you, I'm sure, I tend to go through a lot of paint chips when trying to decide on a color to paint a room.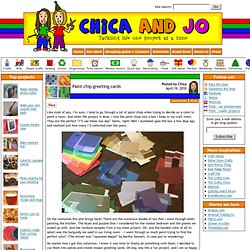 And when the project is done, I toss the paint chips into a box I keep in my craft room. They are the perfect "I'll use these one day" items, right? Well I stumbled upon the box a few days ago and realized just how many I'd collected over the years. Oh the memories this pile brings back! There are the numerous shades of tan that I went through when painting the kitchen. Recycled Pillow Box Favors | Skip To My Lou - StumbleUpon. You know that I save toilet paper rolls.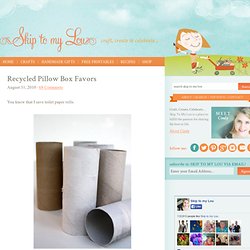 They can be made into so many things — mummies, rockets, Uncle Sam hats, flower party favors………………. even cute pillow boxes perfect for a little favor! Fold in one side of the end. Not martha - to make: papier-mache easter eggs - StumbleUpon. For Easter I made papier-mache polka dotted eggs.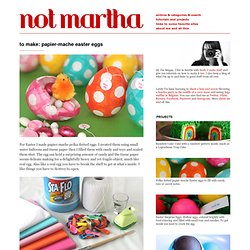 I created them using small water balloons and tissue paper then I filled them with candy and toys and sealed them shut. The egg can hold a surprising amount of candy and the tissue paper seems delicate making for a delightfully heavy and yet fragile object, much like real egg. Fun fun fun fun - clikr - StumbleUpon. 12 Days Handmade Christmas Tutorials Day 8|Alphabet Crayons & lifeingrace - StumbleUpon. If you're new to the '12 Days', you may visit the previous days by clicking on the day you like: Day 1 Crayon Roll Day 2 Zippered Pouches Day 3 Appliqued Placemats.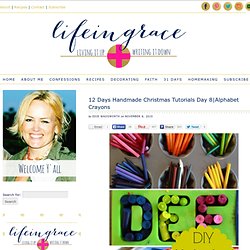 Happy Valentines Day! This year I made this adorable gift for my boyfriend.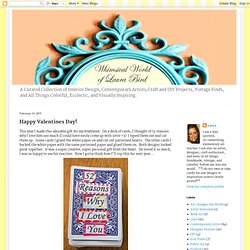 On a deck of cards, I thought of 52 reasons why I love him soo much (I could have easily come up with 1000 <3) I typed them out and cut them up. Some cards I glued the white paper on and cut out patterned hearts. The other cards I backed the white paper with the same patterned paper and glued them on.
---