Clothes
Today I am going to teach you how I make a tutu. Here are the supplies that you will need: 1/2" elastic (I prefer the braided elastic) 6" spools of tulle (found in any craft store, sometimes in the bridal section) 1 yard of double faced satin ribbon (optional) needle and thread large book First, get your princess's waist measurement.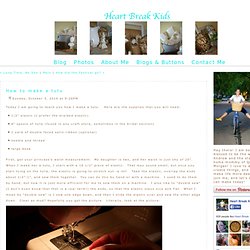 I have these two t-shirts that I love. They're soft, comfortable, and have good worn (and sentimental) designs on them. But, I never wear them for anything other than around the house because they are large men's t-shirts and look completely shapeless on me. Then I found this great tutorial on YouTube for how to make a big t-shirt a fitted shirt! - T-Shirt Surgery: How to Make a Shirt Fit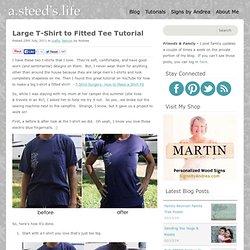 Guest post by Rachael at Talk 2 the Trees . The perfect dress is hard to come by. I like my dresses to be cheap, and long enough. (I'm not a fan of super short dresses!) Cheap and long dresses don't seem to go hand in hand.. so, if you want something done right, you have to do it yourself!