Ghandi à Johannesbourg
Gandhi branded racist as Johannesburg honours freedom fighter | World news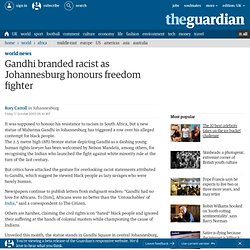 It was supposed to honour his resistance to racism in South Africa, but a new statue of Mahatma Gandhi in Johannesburg has triggered a row over his alleged contempt for black people. The 2.5 metre high (8ft) bronze statue depicting Gandhi as a dashing young human rights lawyer has been welcomed by Nelson Mandela, among others, for recognising the Indian who launched the fight against white minority rule at the turn of the last century. But critics have attacked the gesture for overlooking racist statements attributed to Gandhi, which suggest he viewed black people as lazy savages who were barely human.
Department of Arts , Culture and Heritage - About Gandhi in Johannesburg
Gandhi in South Africa: timeline | World news
1893 Arrives in Durban and is kicked off train in Pietermaritzburg after refusing to move out of the first-class carriage because he is a "non-white" passenger. 1894 Becomes first honorary secretary of the newly formed Natal Indian Congress. 1899 Leaves for the front with Ambulance Corps during the Boer war. 1903 Starts a law practice in Johannesburg and is enrolled as an attorney of the supreme court of the Transvaal. 1903 Founds the newspaper Indian Opinion.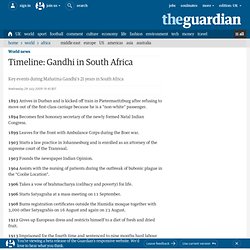 Gandhi and South Africa
At the end of March, the Indian state of Gujarat banned the printing and distribution of Joseph Lelyveld's Great Soul: Mahatma Gandhi and His Struggle With India .
Afrique du Sud : Méditer dans la maison de Gandhi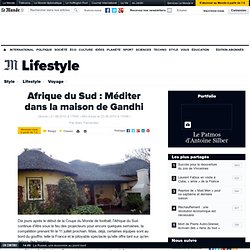 Dix jours après le début de la Coupe du Monde de football , l' Afrique du Sud continue d'être sous le feu des projecteurs pour encore quelques semaines, la compétition prenant fin le 11 juillet prochain. Mais, déjà, certaines équipes sont au bord du gouffre, telle la France et le pitoyable spectacle qu'elle offre tant sur qu'en dehors des terrains. Les Ribéry, Anelka, Henry, Domenech et consorts auront bientôt l'occasion de pouvoir méditer sur les raisons de cet échec. Il existe a un endroit, à Johannesburg, qui pourrait leur convenir , comme à tous les voyageurs qui souhaitent passer quelques jours à réfléchir sur eux-mêmes. Un lieu qui ouvrira ses portes début 2011 : la maison de Gandhi. Car le penseur indien a vécu ici entre 1908 et 1911.