Knives
ESEE Knives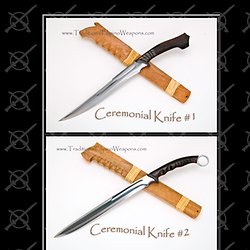 Ceremonial Knives These BIG Knives are northern Philippine ceremonial blades. Used in the mountains of the northern region to capture and kill criminals - by decapitation!
Ceremonial Swords
Blades, Blades, Blades!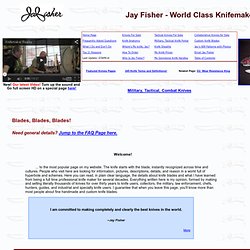 Custom Knife Blades, Blade Grinds, Geometry, Steel Types, Finishes
Bark River Knives - Bushcraft
STEEL: Laminated VG-10 Cobalt Stainless Steel BLADE LENGTH: 5.25" O.A.L.: 10" BLADE THICKNESS: .16" WEIGHT: 5 oz.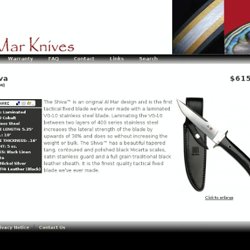 Al Mar Knives - Shiva - Tactical Fixed Blade Al Mar Knives - Premium Knives
Bark River Knives
Waffentechnik Borkott & Eickhorn Solingen
Eickhorn Solingen Limited - The sharper edge of technology
Home
Knives of Alaska: Welcome to Knives of Alaska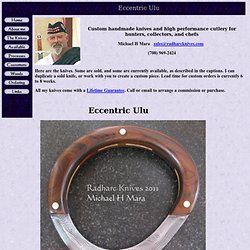 Eccentric Ulu @2011 Michael H. Mara
Custom Handmade Knives - Eccentric Damascus Ulu
Wilson Combat | World Class Custom Firearms and Accessories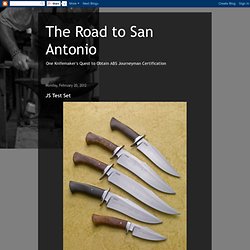 The Road to San Antonio
Scott crafted JS test knife number five into a Texas-size bowie, dressed it in Desert Ironwood, and called it the Alamo.
Gatco: sharpen, sharpening, sharpeners, knife, knives, tactical, military, police, hunting, camping, fishing, tool, diamond hone, EMT, tools
Mission Aerospace and Knives
Startpage - Helle kniver
Fox Knives USA Cutlery Maufacturer and Distributor for Army, Special Forces, Police, Fire Fighters, Navy.
Condor Tool & Knife
:: Spyderco ::
Hem
OKC | Ontario Knife Company since 1889 | Wholesale Knives | Franklinville, NY
Opinel Knives SuperStore | 200 Knife Models | 26 Opinel Categories
Damascus Travelers Knife
Welcome to Fällkniven
Mel Pardue Handmade Knives Alabama, Custom Made Knives Alabama, Collectable Knives Alabama, Knife Art, Art Knives
Coming Soon: Strider Knives
unnamed pearl
Alaska Custom Knife Maker Robert Ball
The Worlds Largest Custom Knife Directory - KMD Custom Knives and Knifemakers