Knives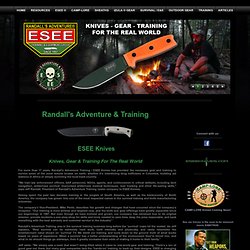 Randall's Adventure & Training ESEE Knives Knives, Gear & Training For The Real World For more than 17 years, Randall's Adventure Training / ESEE Knives has provided the necessary gear and training to survive some of the most remote locales on earth, whether it's interdicting drug traffickers in Colombia, building aid stations in Africa or simply surviving the local back-country. "We train law enforcement officers, SAR personnel, NGOs, agents, and outdoorsmen in critical skillsets, including land navigation, wilderness survival, improvised wilderness medical techniques, man tracking and other life-saving skills," says Jeff Randall, President of Randall's Adventure Training (sister company to ESEE Knives). Having spent the past two decades training in the jungles of South America, as well as the backcountry of North America, the company has grown into one of the most respected names in the survival training and knife manufacturing industries.
ESEE Knives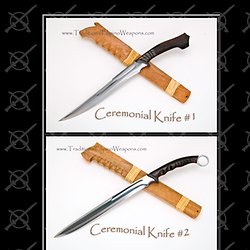 Ceremonial Knives These BIG Knives are northern Philippine ceremonial blades. Used in the mountains of the northern region to capture and kill criminals - by decapitation!
Ceremonial Swords
Blades, Blades, Blades! Need general details? Jump to the FAQ Page here. Welcome! ... to the most popular page on my website.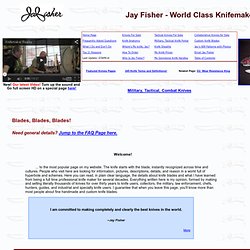 Custom Knife Blades, Blade Grinds, Geometry, Steel Types, Finishes
Bark River Knives - Bushcraft
Bark River Knives
Waffentechnik Borkott & Eickhorn Solingen
Eickhorn Solingen Limited - The sharper edge of technology
Home
Knives of Alaska: Welcome to Knives of Alaska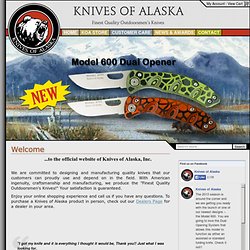 ...to the official website of Knives of Alaska, Inc. We are committed to designing and manufacturing quality knives that our customers can proudly use and depend on in the field. With American ingenuity, craftsmanship and manufacturing, we produce the "Finest Quality Outdoorsmen's Knives!" Your satisfaction is guaranteed. Enjoy your online shopping experience and call us if you have any questions.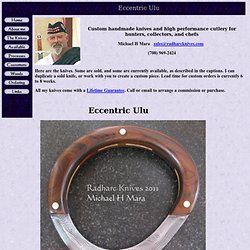 Eccentric Ulu @2011 Michael H. Mara This ergonomic, eccentrically shaped Ulu* has a flat ground blade comprised of 64 layers of high and medium carbon random Damascus, 4-1/2" long, 5-1/2" around the blade, hardened to HRC58. Handle is Claro Walnut inlaid with Birdseye Maple, Red Narra, Osage Orange, and Rosewood, with 3 brass pins. $338 Sold *The Ulu is an Eskimo (Inuit) design, used for butchering game, food preparation, skinning, and eating, dating anywhere from 5000 years old to much older. This highly functional design evolved over millennia, and has been found in archaeological sites, made from bone, stone, and ivory, pre-dating the Iron Age.
Custom Handmade Knives - Eccentric Damascus Ulu
Wilson Combat | World Class Custom Firearms and Accessories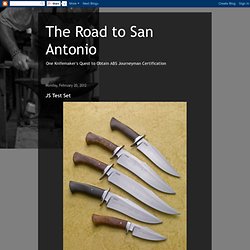 The Road to San Antonio
Scott crafted JS test knife number five into a Texas-size bowie, dressed it in Desert Ironwood, and called it the Alamo. The 11.25 inch blade on this mega knife sports a lot of attitude, along with a wicked clip and a georgeous hamon. It is truly a monster when compared to the Zulu, but the two make a nice pair. The hamon is hard to see in the studio shots, but it's there. The Alamo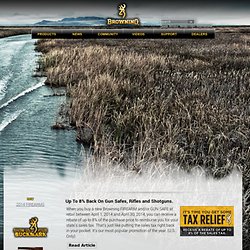 Up To 8% Back On Gun Safes, Rifles and Shotguns. When you buy a new Browning FIREARM and/or GUN SAFE at retail between April 1, 2014 and April 30, 2014, you can receive a rebate of up to 8% of the purchase price to reimburse you for your state's sales tax. That's just like putting the sales tax right back in your pocket. It's our most popular promotion of the year.
Gatco: sharpen, sharpening, sharpeners, knife, knives, tactical, military, police, hunting, camping, fishing, tool, diamond hone, EMT, tools
Mission Aerospace and Knives
Startpage - Helle kniver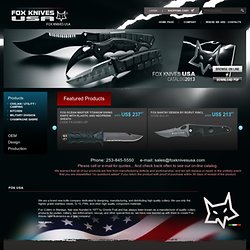 We are a brand new knife company dedicated to designing, manufacturing, and distributing high quality cutlery. We use only thè highes grade stainless steels, G-10, FRN, and other high quality component materials. Fox Cutlery in Maniago, Italy was founded In 1977 by Oreste Frati and has aiways been known as a manufacturer of quality cutlery products for civilian, military, law enforcement, rescue, and other special fore es. we have now teamed up with them to create Fox Knives here in America as a new company!
Fox Knives USA Cutlery Maufacturer and Distributor for Army, Special Forces, Police, Fire Fighters, Navy.
Condor Tool & Knife
:: Spyderco ::
Hem
OKC | Ontario Knife Company since 1889 | Wholesale Knives | Franklinville, NY
Damascus Travelers Knife
As we´ve been in the knife business for more than 30 years, we have built up quite a large experience about knives.And, since we are hunters and outdoorsmen for many years, we have gained a huge knowledge in how a knife shall work.This is being reflected when we design and produce our knives- they are safe, comfortable, sharp and strong, qualities youusually wish to get from a good knife. That might be a reasonwhy our knives are so popular worldwide.
Welcome to Fällkniven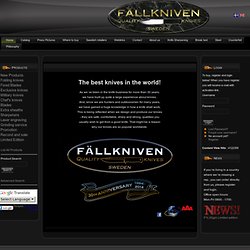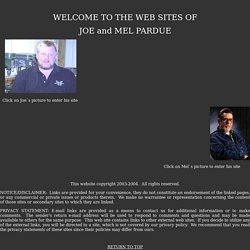 JOE and MEL PARDUE Click on Joe`s picture to enter his site Click on Mel`s picture to enter his site This website copyright 2003-2004. All rights reserved.
Mel Pardue Handmade Knives Alabama, Custom Made Knives Alabama, Collectable Knives Alabama, Knife Art, Art Knives
Coming Soon: Strider Knives
Strider Knives is a privately owned and operated company devoted solely to the development and construction of edged tools designed to survive use in the harshest of conditions. The company was founded and is currently operated by former military personnel. The initial goal was to provide a field service knife constructed with the finest components available, yet affordable to the average enlisted man and within his maintenance abilities. The initial goal having been met, Strider Knives found a ready market for custom-edged weapons and tools with the same component quality requirements as the first highly successful field knives.
We have lowered our pricing on our solid color Kydex material. Black 0.060" - $4.50/sheet (on sale for $4.00) Black 0.090" - $6.50/sheet (on sale for $6.00) Solid Colors 0.080" - $7.50/sheet
unnamed pearl
Robert Ball is a well known Alaska knife maker. Each hand made knife is crafted from the finest materials available. Each knife is more than a work of art; each is a durable working tool designed from long experience in the craft of knife making. Knife handles are custom made from a variety of exotic materials including ivory, hardwood and stag cut pickbone.
Alaska Custom Knife Maker Robert Ball
The Worlds Largest Custom Knife Directory - KMD Custom Knives and Knifemakers