Doutoramento
Critical & Creative Education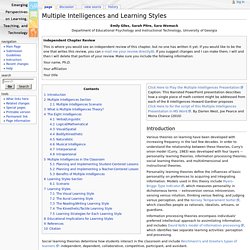 From Emerging Perspectives on Learning, Teaching and Technology Emily Giles, Sarah Pitre, Sara Womack Department of Educational Psychology and Instructional Technology, University of Georgia Introduction Various theories on learning have been developed with increasing frequency in the last few decades.
Multiple Intelligences and Learning Styles
Profesorado — ocwus
Sir Ken Robinson | LearnCentral
(If you're looking for more general public networking for education, we recommend Classroom 2.0 for educators and Student 2.0 for students.) Start by (LearnCentral accounts have been transferred over), then please feel free to , to or , or to just . Thanks for being here, and "keep collaborating!"
May 25 - Interview with Sir Ken Robinson on Creativity
Join me Wednesday, May 25th, for a live and interactive FutureofEducation.com webinar with Sir Ken Robinson about the extensively revised and updated version of his best-selling classic, Out of Our Minds: Learning to be Creative . We'll talk about why it is essential to promote creativity, what happens in schools to make us think we are not creative, and what schools and organizations can do to develop creativity and innovation in a deliberate and systematic way. Date: Wednesday, May 25th, 2011Time: 5pm Pacific / 8pm Eastern / 12am GMT (next day--international times here)Duration: 1 hourLocation: In Elluminate. Log in at http://tr.im/futureofed. The Elluminate room will be open up to 30 minutes before the event if you want to come in early.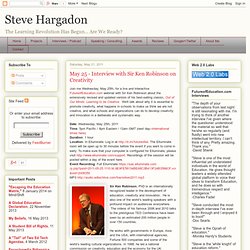 Welcome to the Future of Education interview series and discussion community. Thanks for being here! This interview series and the community are devoted to providing an opportunity for those who care about education to share their voices and ideas with others. It's a place for thoughtful discussion on an incredibly important topic. By joining this site, you'll automatically receive notification of events. Because of spammers, we have to approve all memberships here (it makes it easier if you fill out your profile).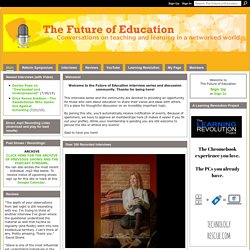 The Future of Education - Charting the Course of Teaching and Learning in a Networked World
Steve Hargadon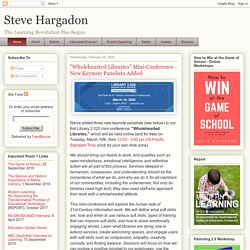 April 15th The very existence of libraries affords the best evidence that we may yet have hope for the future of man. - T.S.
Project Zero Classroom with Programs in Professional Education at the Harvard Graduate School of Education
What You Will Learn Create classrooms, instructional materials and out-of-school learning environments that promote deep learning and understanding. Program Overview What constitutes an effective and powerful learning experience in the 21st century? As we examine the shifting terrain of education, it is essential to be responsive to complex social developments and to create learning experiences that are engaging and exciting for all learners.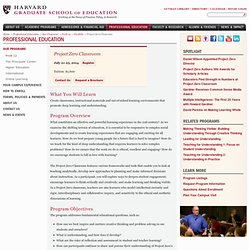 From Researching Virtual Initiatives in Education This wiki is the largest professional wiki in the world devoted to virtual learning in education - at all levels (schools, colleges and universities) including informal learning, open learning/OER and distance learning. Welcome to the entry page of this wiki where you will find information about virtual schools, colleges and universities. The idea behind this wiki is to create an open and public space where researchers can share information about virtual developments in various different educational sectors.
Main Page - Researching Virtual Initiatives in Education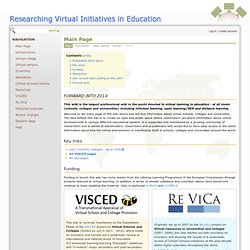 Welcome to the 2014 program! We welcome you to the ICPSR Summer Program in Quantitative Methods of Social Research. Last year, we celebrated a half century as a leading program in training in social science research methodologies and technologies. In 2014, we continue to serve diverse multidisciplinary and growing international constituencies, and are working to make our program even better known. One of the Summer Program's outstanding strengths is its supportive and unique social environment. It facilitates participants' exchange of ideas, approaches, and techniques to develop theories and analyses of social science topics.
ICPSR Summer Program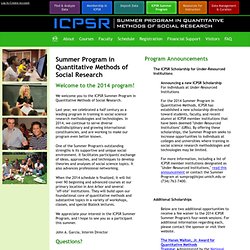 Studentized Range - Q The studentized range statistic is commonly used in post-hoc analyses. The distribution function is built-in to R and we may access it in one of two ways. ptukey(q, nmeans, df) qtukey(p, nmeans, df)
Using R for statistical analyses - Non-parametric statistics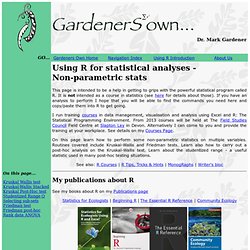 Using R for statistical analyses - Non-parametric statistics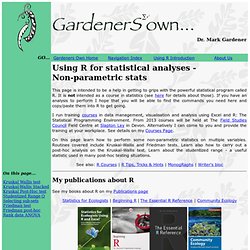 Studentized Range - Q The studentized range statistic is commonly used in post-hoc analyses. The distribution function is built-in to R and we may access it in one of two ways. ptukey(q, nmeans, df) qtukey(p, nmeans, df)
Kruskal-Wallis Test
A collection of data samples are independent if they come from unrelated populations and the samples do not affect each other. Using the Kruskal-WallisTest, we can decide whether the population distributions are identical without assuming them to follow the normal distribution. Example
In our previous statistics tutorials, we have treated population parameters as fixed values, and provided point estimates and confidence intervals for them. An alternative approach is the Bayesian statistics. It treats population parameters as random variables. Probability becomes a measure of our belief in possible outcomes. With new tools like OpenBUGS, tackling new problems requires building new models, instead of creating yet another R command.
An R Introduction to Statistics
The Serious Game Design Summer School is funded with help from the European Commission and time generously donated by participating Industries. Hence the school itself is free for participating students, and those students from the three participating Universities will also receive a subsistence and travel allowance. However, for anyone outside [...] Continue Reading…
ENGAGE Learning
SAGE Journals Online
Liia L added a discussion to the group Book reviews Sampling and Choosing Cases in Qualitative Research: A Realist Approach, by Nick Emmel, SAGE Publications, 2013, 192 pp Book reviewSampling and Choosing Cases in Qualitative Research: A Realist Approach, by Nick Emmel, SAGE Publications, 2013, 192 ppThe book Sampling and Choosing Cases in Qualitative Research, by Nick Emmel, is, like the title lets to assume, about sampling and choosing cases. The main audience of the book are postgraduate students and…
Beginning Research | Action Research | Case Study | Interviews | Observation Techniques | Education Research in the Postmodern Evaluation Research in Education | Narrative| Presentations | Qualitative Research | Quantitative Methods | Questionnaires | Writing up Research Quantitative Methods in Education Research Dr Ulrike Hohmann Originally prepared by Professor John Berry © J Berry, Centre for Teaching Mathematics, University of Plymouth, 2005 (links updated August 2006)
Quantitative Methods in Education Research