Tuto_SF2
Get flash to fully experience Pearltrees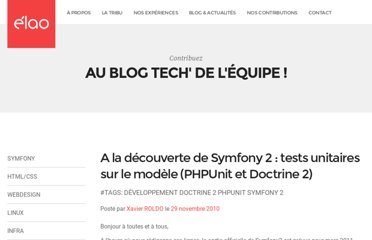 Bonjour à toutes et à tous, A l'heure où nous rédigeons ces lignes, la sortie officielle de Symfony2 est prévue pour mars 2011. Cette version de notre framework préféré fait actuellement l'objet d'une veille attentive de la part de la commmunauté des utilisateurs, et ELAO ne déroge pas à la règle.
In this chapter a reference of every Doctrine 2 Annotation is given with short explanations on their context and usage. 21.2.1. @Column
Bonjour à toutes et à tous, Dans l'article précédent , nous avons mis en place l'infrastructure nécessaire pour créer de nouveaux Entities Doctrine et lancer des tests unitaires à l'aide de PHPUnit. Nous allons aujourd'hui enrichir le modèle précédemment créé pour manipuler des relations. Le développement de Symfony2 se poursuit, les implémentations sont encore en constante évolution, et nous avons donc adopté le parti-pris de manipuler le modèle non pas au sein de contrôleurs ou dans des vues, mais au travers de tests unitaires, afin de consolider le code de notre modèle. Si vous avez suivi le premier article, vous devriez disposer pour le moment d'une classe Entity Actor . Nous allons dans un premier temps créer un second Entity Movie , puis ensuite définir une relation de type many-to-many entre ces deux Entities.
Il y a environ 1 mois de cela, la première version bêta de Doctrine 2 a été rendue publique, une petite prise en main rapide s'imposait ! Je ne vais pas parler ici de l'intégration de Doctrine dans le framework MVC symfony, le plugin sfDoctrine2Plugin n'étant à l'heure actuelle pas testable en profondeur. Cet article porte donc sur Doctrine 2, l'ORM, uniquement. Le schéma de description du modèle
Beside being a full-stack framework, Symfony is also a set of decoupled and standalone components. What is a Component? Symfony Components implement common features needed to develop websites. They are the foundation of the Symfony full-stack framework, but they can also be used standalone even if you don't use the framework as they don't have any mandatory dependencies.
Symfony2 PR3 released; the need for help Today, I'm happy to announce the immediate availability of Symfony2 PR3. This is the first announcement of a Symfony2 Preview Release on this blog because I think we are now very close to the first alpha version of Symfony2 and so we need help to finish it. What's new?