Yoga Pilates Stretching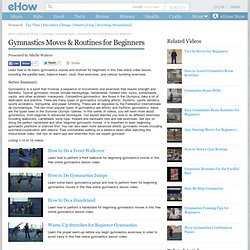 Gymnastics Moves & Routines for Beginners: Video Series
Presented by Sibylle Walters Learn how to do basic gymnastics moves and routines for beginners in this free online video lesson, including the parallel bars, balance beam, vault, floor exercises, and various tumbling exercises. Series Summary Gymnastics is a sport that involves a sequence of movements and exercises that require strength and flexibility. Typical gymnastic moves include handsprings, handstands, forward rolls, tucks, somersaults, vaults, and other acrobatic maneuvers.
Free Information on Flexibility, Stretching, and Training for Sports and Martial Arts from Thomas Kurz's Column on Training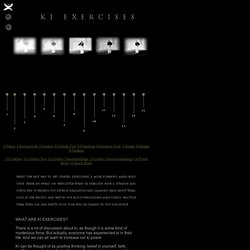 There is a lot of discussion about ki, as though it is some kind of mysterious force. But actually, everyone has experienced ki in their life. And we can all learn to increase our ki power. Ki can be thought of as positive thinking, belief in yourself, faith, confidence, or a state of mind/body unification. You have used ki quite naturally many times in your life, at those moments when something totally captured your interest and imagination. It may have been while you were playing a sport, working late into the morning on a project that was important to you, playing with your child, or simply spending time with someone you love.
hack3d by th3 mast3r
The Big Book of Yoga: Table Of Contents (page 1 of 2)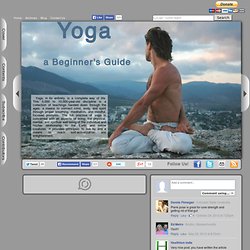 to all parts of the body, including your organs, and increase your flexibility and range of motion. All postures involve three equally important actions: Gently stretch into the posture Hold the posture Ease out of the posture Focus your concentration on your form and on correct breathing. Never force or push. Do not bounce. Maintain slow, easy, fluid motion.
Yoga - A Beginner's Guide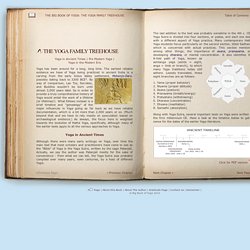 Yoga has been around for a long, long time. The earliest reliable evidence we have of Yoga being practiced in ancient India is a carving from the early Indus Valley settlement, Mohenjo-Daro , possibly dating back to 3300 BCE 1 . By way of comparison, Lao Tze, Socrates, and Buddha wouldn't be born until almost 3,000 years later. So in order to provide a truly comprehensive history of Yoga would entail the work of a lifetime (or lifetimes!). What follows instead is a brief timeline and "genealogy" of the major influences in Yoga going as far back as we have reliable documentation, which is a bit more than 2,000 years or so. (Much beyond that and we have to rely mostly on speculation based on archaeological evidence.)