To watch
Edit Storyline Times are tough in a Chicago real-estate office; the salesmen (Shelley Levene, Ricky Roma, Dave Moss, and George Aaronow) are given a strong incentive by Blake to succeed in a sales contest. The prizes? First prize is a Cadillac El Dorado, second prize is a set of steak knives, third prize is the sack! There is no room for losers in this dramatically masculine world; only "closers" will get the good sales leads.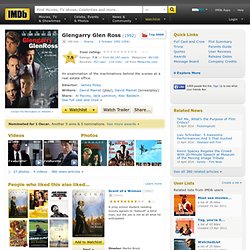 Glengarry Glen Ross (1992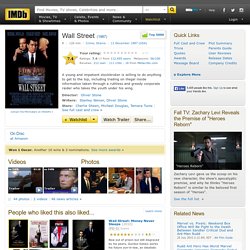 Wall Street (1987
Edit Storyline Bud Fox is a Wall Street stockbroker in early 1980's New York with a strong desire to get to the top. Working for his firm during the day, he spends his spare time working an on angle with the high-powered, extremely successful (but ruthless and greedy) broker Gordon Gekko. Fox finally meets with Gekko, who takes the youth under his wing and explains his philosophy that "Greed is Good".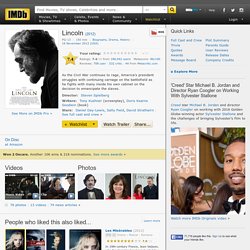 Lincoln (2012
Edit Storyline In 1865, as the American Civil War winds inexorably toward conclusion, U.S. president Abraham Lincoln endeavors to achieve passage of the landmark constitutional amendment which will forever ban slavery from the United States. However, his task is a race against time, for peace may come at any time, and if it comes before the amendment is passed, the returning southern states will stop it before it can become law.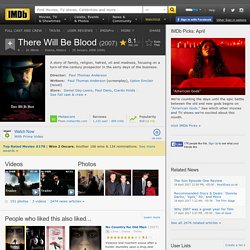 Edit Storyline The intersecting life stories of Daniel Plainview and Eli Sunday in early twentieth century California is presented. Miner turn oilman Daniel Plainview is a driven man who will do whatever it takes to achieve his goals. He works hard but he also takes advantage of those around him at their expense if need be.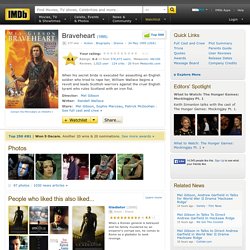 Quotes [ first lines ] Narrator : I shall tell you of William Wallace. Historians from England will say I am a liar, but history is written by those who have hanged heroes. The king of Scotland had died without a son, and the king of England, a cruel pagan known as Edward the Longshanks, claimed the throne of Scotland for himself. Scotland's nobles fought him, and fought each other, over the crown.
La vita è bella (1997)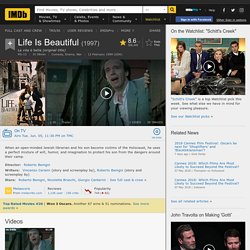 Edit Storyline In 1930s Italy, a carefree Jewish book keeper named Guido starts a fairy tale life by courting and marrying a lovely woman from a nearby city. Guido and his wife have a son and live happily together until the occupation of Italy by German forces.
Edit Storyline The story begins as "Don" Vito Corleone, the head of a New York Mafia "family", oversees his daughter's wedding.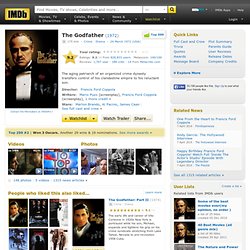 Edit Storyline A father and his son walk alone through burned America. Nothing moves in the ravaged landscape save the ash on the wind and water. It is cold enough to crack stones, and, when the snow falls it is gray. The sky is dark.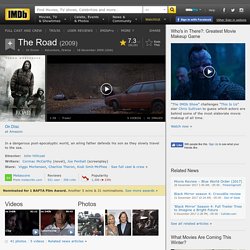 The Road (2009