Skills
100 Amazing How-To Sites to Teach Yourself Anything | Rated Colleges. Posted by Site Administrator in Online Learning May 7th, 2009 Learning new skills and expanding your knowledge doesn't have to cost you an arm and a leg.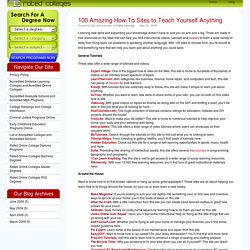 There are loads of free resources on the Web that can help you find instructional videos, tutorials and classes to learn a wide variety of skills from fixing basic car problems to speaking another language. With 100 sites to choose from, you're bound to find something here that will help you learn just about anything you could want. General Tutorials. Learn how Everything Works!" 50 Things Everyone Should Know How To Do. Email Self-reliance is a vital key to living a healthy, productive life.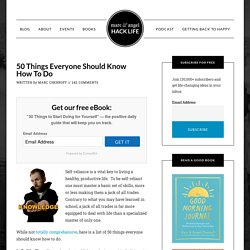 To be self-reliant one must master a basic set of skills, more or less making them a jack of all trades. Contrary to what you may have learned in school, a jack of all trades is far more equipped to deal with life than a specialized master of only one.
50 Things Everyone Should Know. By Mark and Angel Self-reliance is a vital key to living a healthy, productive life.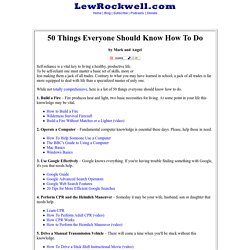 To be self-reliant one must master a basic set of skills, more or less making them a jack of all trades. Allmagic.com. Freezing beer - Magic Trick Video. [Music Playing] Welcome to a video presentation from easybartricks.com.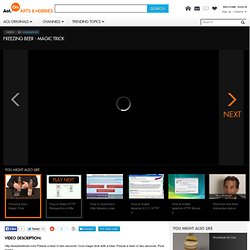 In this video I will show you how you can freeze a beer in just a few seconds. Skills for Men - Things Men Should Be Able to Do. 17.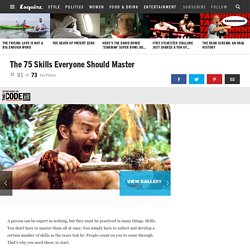 Make one drink, in large batches, very well. When I interviewed for my first job, one of the senior guys had me to his house for a reception. He offered me a cigarette and pointed me to a bowl of whiskey sours, like I was Darrin Stephens and he was Larry Tate. I can still remember that first tight little swallow and my gratitude that I could go back for a refill without looking like a drunk. Top 10 Secret Agent Security Tips and Tricks. When dealing with computer security, an often overlooked security risk is so-called "deleted files".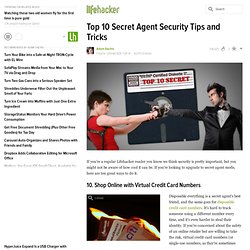 When files are deleted, nothing is actually done to them aside from marking them as "free-space". The OS may get around to overwriting them sometime when it needs the space, but a deleted file could sit on a drive completely intact for weeks of usage (the bigger it is the bigger the chance it will be at least partially overwrited). Encryption applications that do not involve real-time decoding (a special driver decrypting files on-the-go vs an application decrypting and re-encrypting files), often do not have secure methods of wiping files (or the user is unaware of them), and hence the files are left in an unencrypted state on the drive when deleted. Pencil Tip Micro Sculptures. Pencil Tip Micro Sculptures Dalton Ghetti creates awesomely stunning miniature sculptures on pencil tips!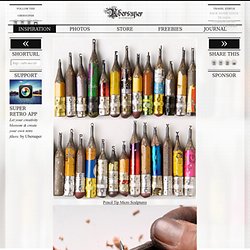 Mind blown! (Unfortunately I couldn't find his official website.) 11th of August 2010 Probably Related. Videojug - Get Good At Life. The world's best how to videos plus free expert advice and tutorials. The Life List: 175 Things A Man Should Do Before He Dies. 35 Life Hacks You Should Know [PIC] How to Survive The Apocalypse » Avoiding an Oral Apocalypse. Avoiding an Oral Apocalypse Ever wonder what you could do for toothpaste if TSHTF and you bugged out into the wild?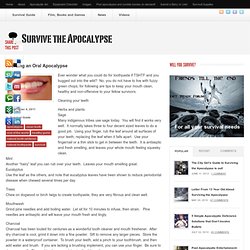 No, you do not have to live with fuzzy green chops, for following are tips to keep your mouth clean, healthy and non-offensive to your fellow survivors. Cleaning your teeth. Survive the Apocalypse. How To Survive The Apocalypse, on $20 and the stuff in your apartment. Five Tools To Survive the Apocalypse. Elevator.jpg (JPEG Image, 543x467 pixels) Get Good At Life. 100 Skills Every Man Should Know: 2008's Ultimate DIY List. Automotive 1.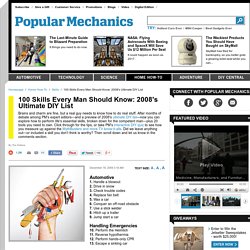 Handle a blowout2. Drive in snow3. Check trouble codes4. Replace fan belt5. Life Skills - 25 Essential Skills for Men. Well, a cantaloupe, anyway.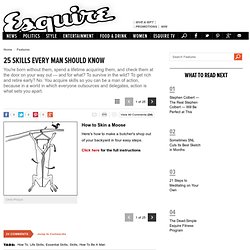 First, smell it: Premature melons smell green, grassy, stemmy. Ripe melons have a tendency to smell like the ripe flesh on the inside: sweet, sticky, and mellow. Then squeeze.
---