Bucket list
101 Things to Do Before You Die | Follow Jessica as she attempts 101 Things to Do Before You Die
1000 Things to Do Before I Die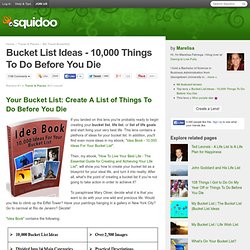 Hike the Appalachian Trail, a 2,184 mile long public footpath which traverses lands of the Appalachian Mountains in the eastern United States. It extends between Springer Mountain in Georgia and Mount Katahdin in Maine. The trail passes through the states of Georgia, North Carolina, Tennessee, Virginia, West Virginia, Maryland, Pennsylvania, New Jersey, New York, Connecticut, Massachusetts, Vermont, New Hampshire, and Maine. The majority of the trail is in wilderness, although some portions traverse towns, roads and cross rivers. The journey can be taken all at once in about five months, or it can be broken down into chunks and done two weeks here, a month there, and so on.
1000 things to do before you die
2DO Before I Die - Stories, People, Ideas...
2DO Before I Die - Stories, People, Ideas...