Logging
[logback-dev] programmatic configuration
The complete logback manual documents the latest version of logback framework. In over 150 pages and dozens of concrete examples, it covers both basic and advanced logback features, including: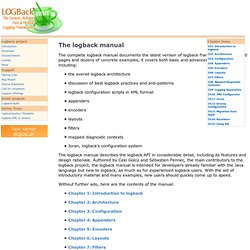 Logback Manual
It's probably not necessary to start this article with a mini-lecture on why logging, like unit-testing, is a Good Thing, so all I will say is logging is important not only during development but also invaluable in diagnosing runtime problems, once a solution is delivered and running. From here on I'm going to assume you're convinced.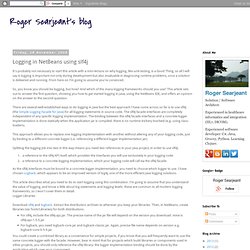 Logging in NetBeans using slf4j
Apache log4j has three development branches: a stable branch, 1.2 ; a discontinued branch, 1.3 ; and an experimental branch, 2.0 . Apache log4j 1.2 releases are widely deployed. Development on the 1.2 branch is generally limited to bug fixing and minor enhancements. Apache log4j 1.3 alpha releases are in limited use. Apache log4j 1.3 added many interesting features, but was compatibility with log4j 1.2 was problematic. Many features original developed for log4j 1.3 have been back-ported as companions for log4j 1.2.
Log4j
Java TM Logging Overview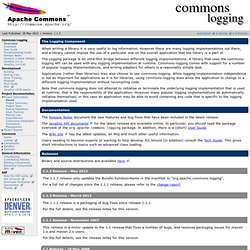 The Logging Component
Commons Logging