Java
SimpleDateFormat (Java 2 Platform SE v1.4.2)
Javadoc Home Page This document describes the style guide, tag and image conventions we use in documentation comments for Java programs written at Java Software, Oracle. It does not rehash related material covered elsewhere: For reference material on Javadoc tags, see the Javadoc reference pages . For the required semantic content of documentation comments, see Requirements for Writing Java API Specifications .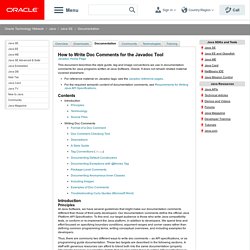 NetBeans - Javadoc support
"Gervill" is a software sound synthesizer which was created as a proposal for the Audio Synthesis Engine Project . Example Applets Features Downloadable Sound Level 2.2 General Midi Level 2 MIDI Tuning Standard SoundFonts 2.04 (24 bit) Use Audio files (AIFF, AU and WAV) as SoundBanks Drumkits can be used on any channel Sinc interpolation with anti-aliasing Uses JavaSound mixers/lines for sound output Pure-Java implementation Emergency soundbank included MIDI Implementation Chart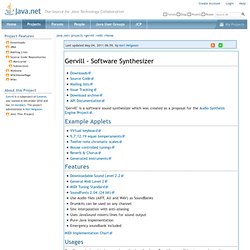 Gervill: Wiki: Home
About the Book Whats New Newest version: Version 1.4 of the Bot Package.
Java Bots | Jeff Heaton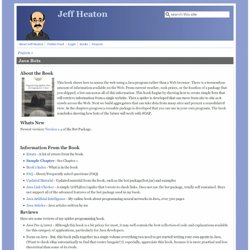 A friend once told me that whenever he learned a new programming language, he would challenge himself to write a Tetris game using that language. So in this tradition, I took it upon myself to do the very same when I first learned to program using the Java language. My first attempt, although a complete game, was very basic and very ugly. As time went on and I gained greater experience in Java design and development, I knew that I could separate the game model from the GUI (similar to Swing components) and create a Tetris bean. So I set about doing just that. In this article, I'll guide you through the construction and implementation of Tetris bean.
Tetris meets the Java bean
Animated Circuit Simulator Documentation
Java API