General
BNF. By: Lars Marius Garshol Contents Introduction What is this?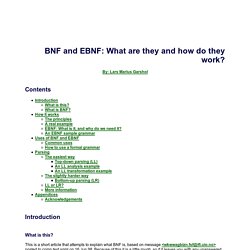 The Absolute Minimum Every Software Developer Absolutely, Positively Must Know About Unicode and Character Sets (No Excuses!) By Joel Spolsky Wednesday, October 08, 2003 Ever wonder about that mysterious Content-Type tag?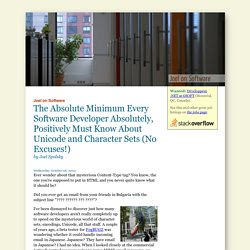 Create Your Own Programming Language. Table of Contents What's a Programming Language?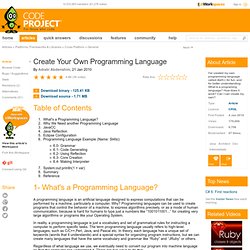 Why We Need another Programming Language JavaCC Java Reflection Eclipse Configuration Programming Language Example (Name: St4tic) 6.0- Grammar 6.1- Code Generating 6.2- Using Reflection 6.3- Core Creation 6.4- Making Interpreter System:out:println(1 + var) Summary Reference 1- What's a Programming Language? A programming language is an artificial language designed to express computations that can be performed by a machine, particularly a computer. Why?
---