Technology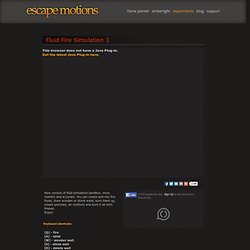 New version of fluid simulation sandbox, more realistic and accurate. You can create and mix fire fluids, draw wooden or stone walls, burn them up, create particles, air emitters and burn it all with fireball. Enjoy! Keyboard shortcuts:
Future of Screen Technology
Arsène Hodali I examine life through whimsical thoughts, questions, and "experiments". I dislike speaking, so I write. I believe reality is negotiable and that it's my job to test it's negotiability to the limit.
Introducing Word Lens: translate any word you see. - dancePROOF+