Wednesday Web 2.0 Expo
Silicon Valley teenager pitching her third tech start-up | abc7n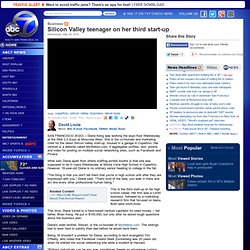 SAN FRANCISCO (KGO) -- Diane Keng was working the expo floor Wednesday at the Web 2.0 Expo at Moscone West. She is the co-founder and marketing chief for the latest Silicon Valley start-up, housed in a garage in Cupertino.
Web 2.0 Expo: A Look At The Future Of Web Browsers, From The Guy
The Web 2.0 Expo is in full swing in San Francisco, CA. One of the more interesting panels to take place earlier today was called What to Expect from Browsers in the Next Five Years .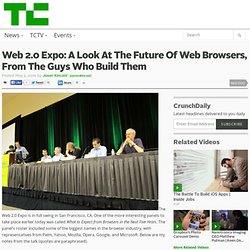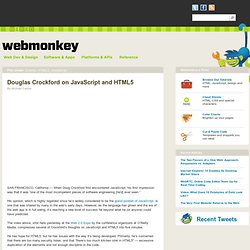 SAN FRANCISCO, California — When Doug Crockford first encountered JavaScript, his first impression was that it was "one of the most incompetent pieces of software engineering [he'd] ever seen."
Douglas Crockford on JavaScript and HTML5 | Webmonkey | Wired.co
Digits Live Show: New Push to Regulate Internet Access - Digits
The FCC announced it will try to re-regulate the Internet with what it calls a "light touch" effort that would apply some old phone regulations to Internet lines. The Journal's Amy Schatz, Spencer Ante, and Zach Seward discuss the proposed regulations, which are part of the push for net neutrality and would force broadband providers to treat all Web traffic equally. Cable and Telecom stocks dropped today in response to the announcement, but Internet companies and consumers should win out with faster access to content across the net.
There's nothing unusual about seeing TV cameras on the expo floor of a trade show like Web 2.0 Expo.
Has a "dot-com" changed your world? The Internet wants to know h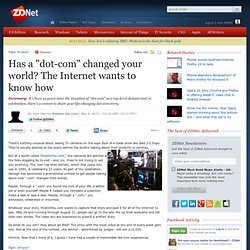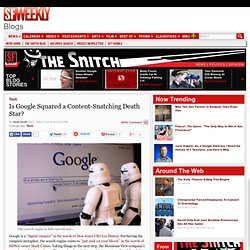 Is Google Squared a Content-Snatching Death Star? - San Francisc
​ Google is a "digital vampire" in the words of Dow Jones CEO Les Hinton.
Forget Free--Freemium is the Future - mediabistro.com: GalleyCat
Jared Friedman, cofounder and CTO of Scribd–the site that lets anyone upload almost any document and publish it to the Web –was among the last keynote speakers at the Web 2.0 Conference in San Francisco today. And he had big news ( teased yesterday on TechCrunch ): Scribd is dumping Flash and converting the millions of documents it hosts to HTML5. I spoke with Friedman today, and he went to pains to emphasize that Scribd isn't run by Flash haters.
Scribd: Goodbye Flash, Hello HTML5 (and Google Docs)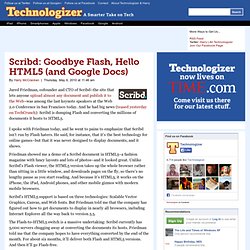 This morning during his keynote talk at Web 2.0 Expo, Tim O'Reilly took a look at the State of the Internet Operating System — a term he uses to describe the intertwined web services like search, the social graph, and payments systems that power applications on the web (and increasingly, mobile devices).
Tim O'Reilly: Steve Jobs Is Trying To Build A Fundamental Challe
By Geoffrey A. Fowler
News Websites Discuss Life Without Google - Digits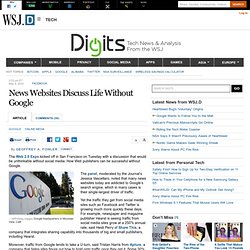 web 2.0 expo - Techmeme Search
Techmeme Search finds "items", i.e. blog posts, news stories and tweets, that have appeared as headlines on Techmeme . Items listed only in the "More" areas are excluded from results.