Wednesday Web 2.0 Expo
Silicon Valley teenager pitching her third tech start-up | abc7n. SAN FRANCISCO (KGO) -- Diane Keng was working the expo floor Wednesday at the Web 2.0 Expo at Moscone West.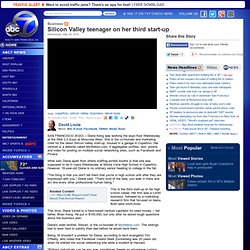 She is the co-founder and marketing chief for the latest Silicon Valley start-up, housed in a garage in Cupertino. Her venture is a website called MyWeboo.com; it aggregates profiles, text, photos and video for posting on multiple social networking sites, such as Facebook and Picasa. What sets Diane apart from others staffing exhibit booths is that she was supposed to be in class Wednesday at Monta Vista High School in Cupertino. However, 18-year-old Diane is no ordinary senior heading to college in the fall. "The thing is that you don't tell them that you're in high school until after they are impressed with you," Diane said. Web 2.0 Expo: A Look At The Future Of Web Browsers, From The Guy. The Web 2.0 Expo is in full swing in San Francisco, CA.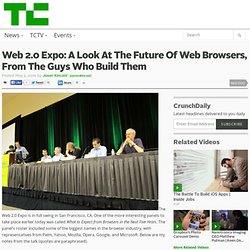 One of the more interesting panels to take place earlier today was called What to Expect from Browsers in the Next Five Years. The panel's roster included some of the biggest names in the browser industry, with representatives from Palm, Yahoo, Mozilla, Opera, Google, and Microsoft. Below are my notes from the talk (quotes are paraphrased). The Panelists Douglas Crockford (Yahoo) – Architect at Yahoo, discovered JSON Brendan Eich (Mozilla) – Leads architecture, technical direction at Mozilla.
Created JavaScript Charles McCathieNevile (Opera) -Chief Standards Officer at Opera. Douglas Crockford on JavaScript and HTML5 | Webmonkey | Wired.co. SAN FRANCISCO, California — When Doug Crockford first encountered JavaScript, his first impression was that it was "one of the most incompetent pieces of software engineering [he'd] ever seen."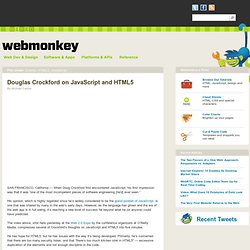 His opinion, which is highly regarded since he's widely considered to be the grand poobah of JavaScript, is one that was shared by many in the web's early days. However, as the language has grown and the era of the web app is in full swing, it's reaching a new level of success far beyond what he (or anyone) could have predicted. The video above, shot here yesterday at the Web 2.0 Expo by the conference organizers at O'Reilly Media, compresses several of Crockford's thoughts on JavaScript and HTML5 into five minutes. Digits Live Show: New Push to Regulate Internet Access - Digits.
Has a "dot-com" changed your world? The Internet wants to know h. There's nothing unusual about seeing TV cameras on the expo floor of a trade show like Web 2.0 Expo.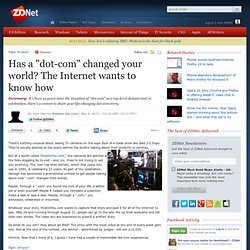 They're usually pointed at the execs behind the booths talking about their products or services. But at a booth called "HowDoYou.com," the cameras are pointed at the folks stopping by to visit - and, no, they're not trying to sell you anything. The .com top level domain, which first came into use in 1985, is celebrating 25 years. As part of the celebration, Verisign has sponsored a promotional contest to get people talking about how ".com" changed their worlds. Is Google Squared a Content-Snatching Death Star? - San Francisc. ​Google is a "digital vampire" in the words of Dow Jones CEO Les Hinton.
Furthering the vampiric metaphor, the search engine exists to "just suck on your blood," in the words of HDNet owner Mark Cuban. Taking things to the next step, the Mountain View company's experimental information-culling service Google Squared is a vampire-piloted Death Star. Alderaan, the planet under fire, would in this case would be news and other proprietary content appropriated without credit by a Google Squared aggregating service that all but dispenses with the traditional method of teasing, boldly crediting, and linking to stories. Forget Free--Freemium is the Future - mediabistro.com: GalleyCat. Scribd: Goodbye Flash, Hello HTML5 (and Google Docs) Jared Friedman, cofounder and CTO of Scribd–the site that lets anyone upload almost any document and publish it to the Web–was among the last keynote speakers at the Web 2.0 Conference in San Francisco today.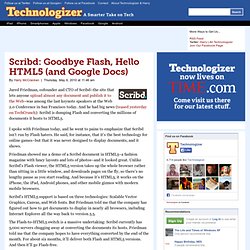 And he had big news (teased yesterday on TechCrunch): Scribd is dumping Flash and converting the millions of documents it hosts to HTML5. I spoke with Friedman today, and he went to pains to emphasize that Scribd isn't run by Flash haters. Tim O'Reilly: Steve Jobs Is Trying To Build A Fundamental Challe. This morning during his keynote talk at Web 2.0 Expo, Tim O'Reilly took a look at the State of the Internet Operating System — a term he uses to describe the intertwined web services like search, the social graph, and payments systems that power applications on the web (and increasingly, mobile devices).
During his talk, he gave a report card of sorts for tech companies like Google, Apple, Facebook and Microsoft. Apple, he says, "has a vision of world domination", and that with the App Store platform Steve Jobs is trying to build a fundamental challenge to the web. But it falls short in one key area: O'Reilly believes that Apple doesn't understand the importance of web-based services, as evidenced by its decision to make its (somewhat lackluster) MobileMe service premium, with little in the way of a social graph. News Websites Discuss Life Without Google - Digits. Web 2.0 expo - Techmeme Search. Techmeme Search finds "items", i.e. blog posts, news stories and tweets, that have appeared as headlines on Techmeme.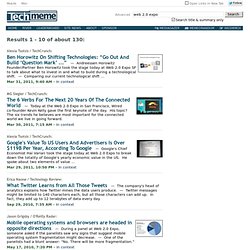 Items listed only in the "More" areas are excluded from results. By default, only the title and first few sentences are searched. Unchecking "Search title & summary only" extends the search to the full body text. Quoted phrases, wildcards, and standard search operators like + (plus), - (minus), AND, OR, NOT, and parenthesis are all supported. Narrowing searches based on url, author, date, and other attributes is also possible.
---