This Week July4 2011
Charge Your Phone with Your Shirt. Unless you have an impeccable phone-charging routine, chances are you've been caught with a dead battery at a very inopportune time.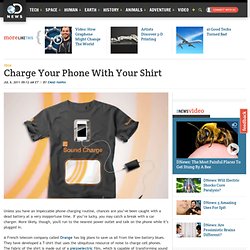 If you're lucky, you may catch a break with a car charger. More likely, though, you'll run to the nearest power outlet and talk on the phone while it's plugged in. A French telecom company called Orange has big plans to save us all from the low-battery blues. They have developed a T-shirt that uses the ubiquitous resource of noise to charge cell phones. The fabric of the shirt is made out of a piezoelectric film, which is capable of transforming sound into electricity by compressing tiny quartz crystals. For Europe's start-ups, Silicon Valley still calls. By Kim Hjelmgaard, MarketWatch LONDON (MarketWatch) — "Go West," young technology company.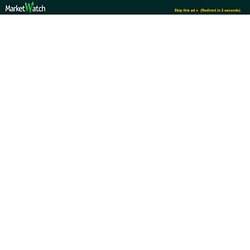 That sentiment, with its compass-point directive, is both a rallying cry and a death knell in Europe's war to assert the credentials of its homespun technology entrepreneurs. Divided by geography, language, regulation and, in some cases, just old-fashioned cultural prejudice, the region has struggled to shed fully its image as a place where men and women with ideas are born, but where they do not necessarily stay, prosper or secure funding. And that's despite some global-headline-grabbing deals recently for some of the Old World's most innovative and promising young companies. Evidence that this unofficial tradition of European entrepreneurs leaving for the U.S. in order to make good on their business models is, at the very least, undergoing a period of critical self-examination. Quoted: Silicon Valley vs. Wall Street, or the hoodies vs. the suits | Good Morning Silicon Valley.
$750,000 awarded to man for loss of Einstein papers in Lick fire. Posted: 05/02/2012 10:35:42 PM PDT0 Comments|Updated: about a year ago Congratulations!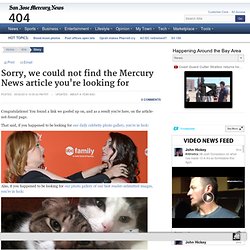 You found a link we goofed up on, and as a result you're here, on the article-not-found page. That said, if you happened to be looking for our daily celebrity photo gallery, you're in luck: Also, if you happened to be looking for our photo gallery of our best reader-submitted images, you're in luck: Google unleashes army of lobbyists - Terrifed of anti-trust action. Terrified of having a Microsoft done to it, search outfit Google has hired 12 lobbying firms to try and stop it being labelled a monopolist.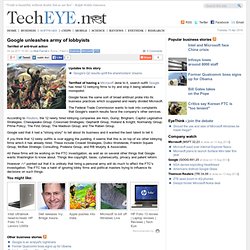 Google faces the same sort of broad antitrust probe into its business practices which scuppered and nearly divided Microsoft. The Federal Trade Commission wants to look into complaints that Google's search results favor the company's other services. According to Reuters, the 12 newly hired lobbying companies are Akin, Gump; Bingham; Capitol Legislative Strategies; Chesapeake Group; Crossroad Strategies; Gephardt Group; Holland & Knight; Normandy Group; Prime Policy; The First Group; The Madison Group; and The Raben Group.
Google said that it had a "strong story" to tell about its business and it wanted the best talent to tell it. Google Goes Missing In Lodsys Litigation -- InformationWeek. Android developers continue to ask when Google will come to their defense as Apple has done for its developers.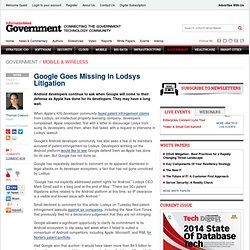 They may have a long wait. When Apple's iOS developer community faced patent infringement claims from Lodsys, an intellectual property licensing company, developers complained. Apple responded, first with a letter to discourage Lodys from suing its developers, and then, when that failed, with a request to intervene in Lodsys' lawsuit.
Google's Android developer community has also seen a few of its members accused of patent infringement by Lodsys. Developers working on the Android platform would like to see Google defend them as Apple has done for its own. Lodsys files suit against New York Times, five others | Politics and Law. Lodsys, the group that's gone after both mobile-application developers and large companies in defense of patents it holds, today filed a new patent infringement lawsuit aimed at The New York Times Co. and five others, all of which have previously taken legal action against it in separate court filings.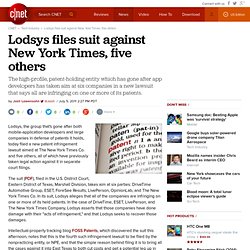 The suit (PDF), filed in the U.S. District Court, Eastern District of Texas, Marshall Division, takes aim at six parties: DriveTime Automotive Group, ESET, ForeSee Results, LivePerson, OpinionLab, and The New York Times Co. In its suit, Lodsys alleges that all of the companies are infringing on one or more of its held patents. AMD tablet chip details leaked - Bought to you by Turks. AMD has been telling the world+dog about its new tablet-specific Z-Series processors and has been leaking details of its Hondo chip to the Turks.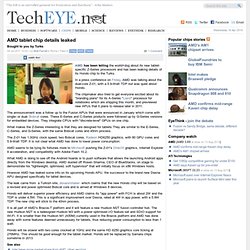 In a press conference on Friday, AMD was talking about the dual-core Z-01, with a 5.9-Watt TDP but was quiet about Hondo. The chipmaker also tried to get everyone excited about its "branding plans" for its A-Series "Llano" processor for notebooks which are shipping this month, and previewed new APUs that it plans to release later in 2011. Cisco draws flak for China surveillance project - Money sings in Chongqing.
Despite facing harsh criticism in North America, Cisco is reportedly pushing ahead with plans to aid China in keeping its bustling population in check - with a wide surveillance network.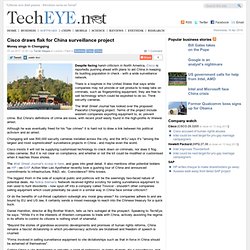 There is a loophole in the United States that says while companies may not provide or sell products to keep tabs on criminals, such as fingerprinting equipment, they are free to sell technology which could be exploited to do so. Think security cameras. The Wall Street Journal has looked over the proposed Peaceful Chongqing project. Terms of the project include western companies exporting equipment to, er, prevent crime. O'Brien: Silicon Valley must lead charge to land regional patent office.
Posted: 05/02/2012 10:35:42 PM PDT0 Comments|Updated: about a year ago Congratulations!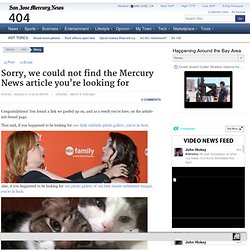 You found a link we goofed up on, and as a result you're here, on the article-not-found page. In the city, summer of love (and sex) never ended. Another day, another set of national rankings placing San Francisco quite literally on top.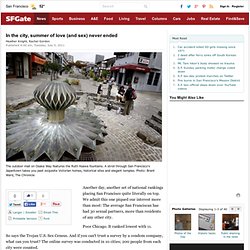 We admit this one piqued our interest more than most: The average San Franciscan has had 30 sexual partners, more than residents of any other city. Poor Chicago. It ranked lowest with 11. So says the Trojan U.S. Sex Census. Some People May Be Bad to the Bone. A man's facial bone structure can predict unethical behavior, according to new research. New research holds that male facial structure can predict whether or not certain men will engage in unethical behavior. Genetics and hormonal development likely play a primary role in establishing the link between behavior and facial structure in men. This trait also appears to predict success in business and leadership roles. Men who have wider faces relative to their facial height are more likely to engage in unethical behavior, according to a new study in the latest issue of the Proceedings of the Royal Society B.
A year after its big redesign, how Google News is thinking about the best ways to present news stories. It's been a year since Google News launched its big redesign, the first major update of the Google News interface since it launched in 2002. The revamp put a new emphasis on customized news content, focusing in particular on the social elements of news: personalization and, then, sharing. The design you'll see on the site today isn't too far off from what was introduced last year. It still strikes a balance between personalization and serendipity, with a design that is dominated by a Top Stories stream, and filled out by customized stories, locally relevant articles, Spotlight-ed items, most-shared pieces, and other content.
iPad Generates 1% Of Global Internet Traffic -- InformationWeek. Smartphones, tablets, and other mobile devices now account for 5% of all worldwide browsing sessions, according to the latest numbers from NetMarketShare. In the 15 months since its release, the iPad has gone from zero presence to creating 1% of all Internet traffic around the planet. In the United States, the iPad accounts for 2.1% of Internet traffic. While these numbers aren't huge, they are still significant. The trend clearly points out how mobile Internet use is taking hold not just in the United States, but everywhere. NetMarketShare reports that 5% of browsing sessions around the world now come from mobile devices such as tablets and smartphones. Cisco Poised to Help China Build Surveillance Project. The Coming Brick Wall in Venture Capital & Why This is Good for US Innovation. This is the final part of a 3-part series on the major changes in the structure of the software & the venture capital industries.
The series started here if you want to read from the start. Or the Cliff Note's version: Open Source & Cloud Computing (led by Amazon) drove down tech startup costs by 90%The result was a massive increase in startups & a whole group of new funding sources: both angels & "micro VCs"With more competition in early-stage many VCs are investing smaller amounts at earlier stages.
Some are going later stage to not miss out on hot deals. Have you heard the one about Apple's data center? Security gate from Startown Rd. In a few days we'll be leaving Carolina, possibly forever. Following the recent death of my father-in-law — our reason for coming here in the first place — Silicon Valley calls once more.
But before leaving town I was determined to scope out that $1 billion Apple data center in Maiden, NC. Magnetic memory and logic could achieve ultimate energy efficiency.
---