This Week July4 2011
Charge Your Phone with Your Shirt
For Europe's start-ups, Silicon Valley still calls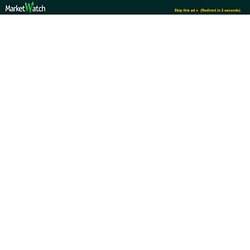 By Kim Hjelmgaard, MarketWatch LONDON (MarketWatch) — "Go West," young technology company.
Posted: 05/02/2012 10:35:42 PM PDT | Updated: about a year ago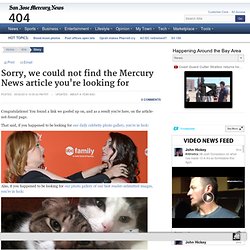 $750,000 awarded to man for loss of Einstein papers in Lick fire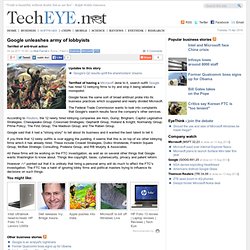 Terrified of having a Microsoft done to it, search outfit Google has hired 12 lobbying firms to try and stop it being labelled a monopolist.
Google unleashes army of lobbyists - Terrifed of anti-trust action
Google Goes Missing In Lodsys Litigation -- InformationWeek
Lodsys files suit against New York Times, five others | Politics and Law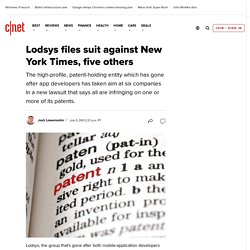 Lodsys, the group that's gone after both mobile-application developers and large companies in defense of patents it holds, today filed a new patent infringement lawsuit aimed at The New York Times Co. and five others, all of which have previously taken legal action against it in separate court filings. The suit (PDF), filed in the U.S. District Court, Eastern District of Texas, Marshall Division, takes aim at six parties: DriveTime Automotive Group, ESET, ForeSee Results, LivePerson, OpinionLab, and The New York Times Co.
AMD has been telling the world+dog about its new tablet-specific Z-Series processors and has been leaking details of its Hondo chip to the Turks. In a press conference on Friday, AMD was talking about the dual-core Z-01, with a 5.9-Watt TDP but was quiet about Hondo. The chipmaker also tried to get everyone excited about its "branding plans" for its A-Series "Llano" processor for notebooks which are shipping this month, and previewed new APUs that it plans to release later in 2011.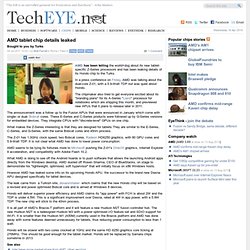 AMD tablet chip details leaked - Bought to you by Turks
Cisco draws flak for China surveillance project - Money sings in Chongqing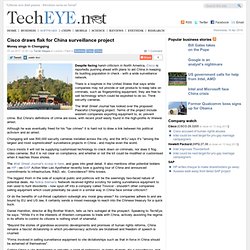 Despite facing harsh criticism in North America, Cisco is reportedly pushing ahead with plans to aid China in keeping its bustling population in check - with a wide surveillance network.
O'Brien: Silicon Valley must lead charge to land regional patent office
Posted: 05/02/2012 10:35:42 PM PDT | Updated: about a year ago Congratulations! You found a link we goofed up on, and as a result you're here, on the article-not-found page.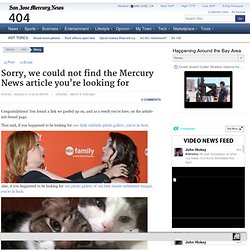 In the city, summer of love (and sex) never ended
Another day, another set of national rankings placing San Francisco quite literally on top. We admit this one piqued our interest more than most: The average San Franciscan has had 30 sexual partners, more than residents of any other city.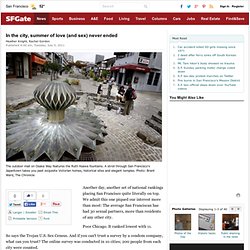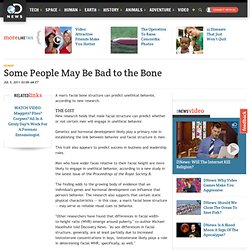 Some People May Be Bad to the Bone
A man's facial bone structure can predict unethical behavior, according to new research. New research holds that male facial structure can predict whether or not certain men will engage in unethical behavior. Genetics and hormonal development likely play a primary role in establishing the link between behavior and facial structure in men. This trait also appears to predict success in business and leadership roles. Men who have wider faces relative to their facial height are more likely to engage in unethical behavior, according to a new study in the latest issue of the Proceedings of the Royal Society B.
It's been a year since Google News launched its big redesign, the first major update of the Google News interface since it launched in 2002.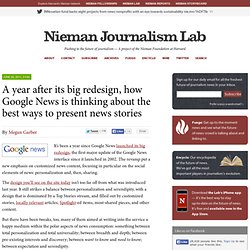 A year after its big redesign, how Google News is thinking about the best ways to present news stories » Nieman Journalism Lab » Pushing to the Future of Journalism
iPad Generates 1% Of Global Internet Traffic -- InformationWeek
In the 15 months since its release, the iPad has gone from zero presence to creating 1% of all Internet traffic around the planet. In the United States, the iPad accounts for 2.1% of Internet traffic. While these numbers aren't huge, they are still significant. The trend clearly points out how mobile Internet use is taking hold not just in the United States, but everywhere. NetMarketShare reports that 5% of browsing sessions around the world now come from mobile devices such as tablets and smartphones. In the United States, that number jumps to 8.2%.
Cisco Poised to Help China Build Surveillance Project
This is the final part of a 3-part series on the major changes in the structure of the software & the venture capital industries.
The Coming Brick Wall in Venture Capital & Why This is Good for US Innovation | Both Sides of the Table
Security gate from Startown Rd.
Have you heard the one about Apple's data center?
Future computers may rely on magnetic microprocessors that consume the least amount of energy allowed by the laws of physics, according to an analysis by University of California, Berkeley, electrical engineers.
Magnetic memory and logic could achieve ultimate energy efficiency