No
Signs: It's Not A Bubble Until... Posted by Tom Foremski - June 2, 2011 I say Silicon Valley is in a boom period rather than a bubble.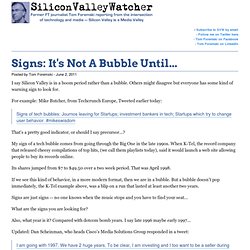 Others might disagree but everyone has some kind of warning sign to look for. VC True Ventures co-founder: There is no bubble, period. Connect with leaders from the companies in this story, in real life: Come to the fourth annual VentureBeat Mobile Summit April 14-15 in Sausalito, Calif.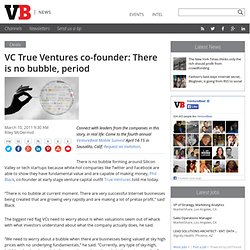 Request an invitation. There is no bubble forming around Silicon Valley or tech startups because white-hot companies like Twitter and Facebook are able to show they have fundamental value and are capable of making money, Phil Black, co-founder at early stage venture capital outfit True Ventures told me today. Top PayPal Alumni: "Silicon Valley Lacks Radical Innovation"
Posted by Tom Foremski - February 3, 2011 It was a sold out event: Peter Thiel and Max Levchin at the Inforum Club SF - the club for under 36 year old members of the Commonwealth Club.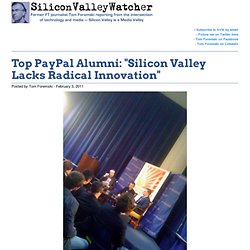 Mr Thiel and Mr Levchin are two prominent members of what some call the "PayPal Mafia. " This is a large number of unbelievably successful entrepreneurs; the Paypal alumni have gone on to help found an extraordinary number of successful startups. Quest Venture Partners: Current VC investing not "irrational" The hand-wringing continues over whether or not there is a venture capital bubble forming around hot new Silicon Valley startups.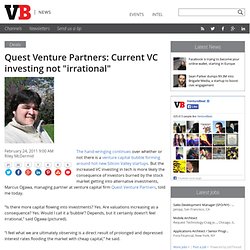 But the increased VC investing in tech is more likely the consequence of investors burned by the stock market getting into alternative investments, Marcus Ogawa, managing partner at venture capital firm Quest Venture Partners, told me today. "Is there more capital flowing into investments? Yes. Are valuations increasing as a consequence? VCs Agree: "No Bubble" ... But Is Twitter A Sign? Posted by Tom Foremski - March 10, 2011 "Double, double toil and trouble; Fire burn, and caldron bubble," chanted the witches of Shakespeare's Macbeth, cooking up trouble.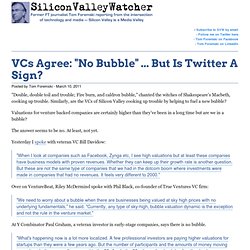 Similarly, are the VCs of Silicon Valley cooking up trouble by helping to fuel a new bubble? Valuations for venture backed companies are certainly higher than they've been in a long time but are we in a bubble? The answer seems to be no. Silicon Valley Veteran VC Bill Davidow Says "No Bubble" Posted by Tom Foremski - March 9, 2011 I just finished an interview with Bill Davidow on the subject of his new book "Overconnected: The Promise and Threat of the Internet.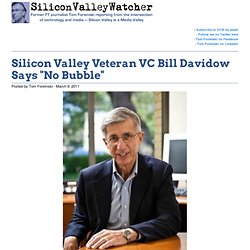 " I'll post the interview later. I took the opportunity of asking Mr Davidow about the state of Silicon Valley and questions such as "are we in a bubble? "
---