Google TV
Announcing Google TV: TV meets web. Web meets TV. If there's one entertainment device that people know and love, it's the television.
In fact, 4 billion people across the world watch TV and the average American spends five hours per day in front of one*. Recently, however, an increasing amount of our entertainment experience is coming from our phones and computers. Introducing Google TV. 7 unanswered questions about Google TV | Crave. The announcement of Google TV Thursday has confirmed rumors that the company was looking to enter the living room, but there are still plenty of questions about how the new platform will play out.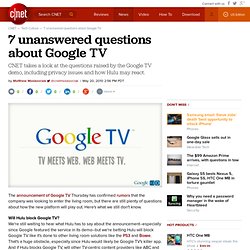 Here's what we still don't know. Will Hulu block Google TV? We're still waiting to hear what Hulu has to say about the announcement--especially since Google featured the service in its demo--but we're betting Hulu will block Google TV like it's done to other living room solutions like the PS3 and Boxee. The Future of Google TV is.. Google TV is going to be very interesting.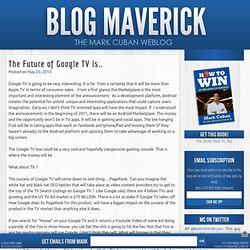 It is far from a certainty that it will be more than Apple TV in terms of consumer sales. From a first glance the Marketplace is the most important and interesting element of the announcement. As a development platform, Android creates the potential for untold unique and interesting applications that could capture users imagination. Early on, I don't think TV oriented apps will have the most impact. Google TV: Five Burning Questions - PCWorld. Google, Intel, and Sony are reportedly banding together to produce a Web content platform for your living room called Google TV.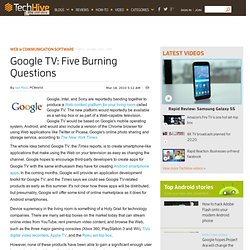 The new platform would reportedly be available as a set-top box or as part of a Web-capable television. Google TV would be based on Google's mobile operating system, Android, and would also include a version of the Chrome browser for using Web applications like Twitter or Picasa, Google's online photo sharing and storage service, according to The New York Times. The whole idea behind Google TV, the Times reports, is to create smartphone-like applications that make using the Web on your television as easy as changing the channel. Google hopes to encourage third-party developers to create apps for Google TV with the same enthusiasm they have for creating Android smartphone apps.
In the coming months, Google will provide an application development toolkit for Google TV, and the Times says we could see Google TV-related products as early as this summer. What does Google TV do for Sony? | Technology | Los Angeles Time. Quick, which company is bigger: Google or Sony?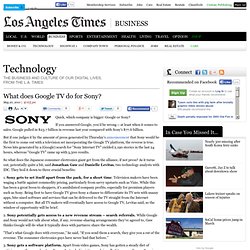 If you answered Google, you'd be wrong -- at least when it comes to sales. Google pulled in $23.7 billion in revenue last year compared with Sony's $77.6 billion. The Unanswered Questions About Google TV. Murphy was in the room when Google unveiled its Google TV platform at its I/O developer conference today.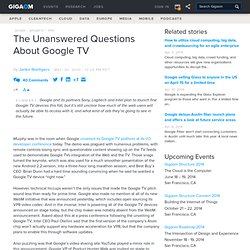 The demo was plagued with numerous problems, with remote controls losing sync and questionable content showing up on the TV feeds used to demonstrate Google TVs integration of the Web and the TV. Those snags turned the keynote, which was also used for a much smoother presentation of the new Android 2.2 version, into a three-hour long marathon session, and Best Buy's CEO Brian Dunn had a hard time sounding convincing when he said he wanted a Google TV device "right now." However, technical hiccups weren't the only issues that made the Google TV pitch sound less than ready for prime time. Google TV - so what? It's all about the content... I can't get excited by Google TV because no matter how fine the box is, no matter how great the wired and wireless connectivity, or the user interface, at the end of the day it's all about the content.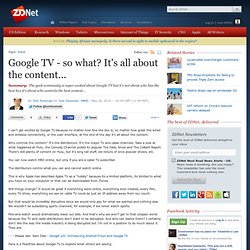 Who controls the content? It's the distributors. It's the major TV and cable channels.
---