Google TV
Get flash to fully experience Pearltrees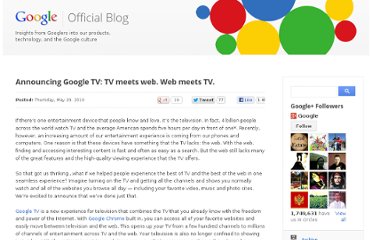 If there's one entertainment device that people know and love, it's the television. In fact, 4 billion people across the world watch TV and the average American spends five hours per day in front of one*. Recently, however, an increasing amount of our entertainment experience is coming from our phones and computers.
The announcement of Google TV Thursday has confirmed rumors that the company was looking to enter the living room, but there are still plenty of questions about how the new platform will play out. Here's what we still don't know. Will Hulu block Google TV?
Google TV is going to be very interesting.
Quick, which company is bigger: Google or Sony? If you answered Google, you'd be wrong -- at least when it comes to sales. Google pulled in $23.7 billion in revenue last year compared with Sony's $77.6 billion.
I can't get excited by Google TV because no matter how fine the box is, no matter how great the wired and wireless connectivity, or the user interface, at the end of the day it's all about the content.