Every company is a media company
GE : ecomagination. The Future Of PR When Every Company Is Now A Media Company... - Posted by Tom Foremski - April 24, 2009 [On my recent trip to Portland I caught up with Kathleen Mazzocco from Clear PR.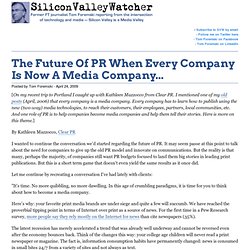 I mentioned one of my old posts (April, 2006) that every company is a media company. Every company has to learn how to publish using the new (two-way) media technologies, to reach their customers, their employees, partners, local communities, etc. Entrepreneurs Question Value of Social Media. Bigger Business Blogs Better Lead Bringers.
By MarketingCharts staff Businesses with blog article numbers above this critical threshold are likely to have enough content to make a significant impact on search engines through additional indexed pages and new keywords with which to associate.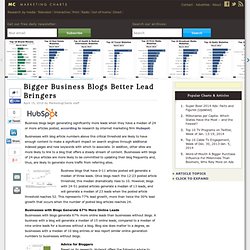 In addition, other sites are more likely to link to a blog that offers a steady stream of content. Businesses with blogs of 24-plus articles are more likely to be committed to updating their blog frequently and, thus, are likely to generate more traffic from referring sites. About this blog. I believe that it is only a matter of time before enterprise software consists of only four types of application: publishing, search, fulfilment and conversation.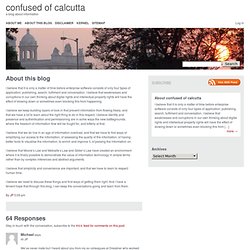 I believe that weaknesses and corruptions in our own thinking about digital rights and intellectual property rights will have the effect of slowing down or sometimes even blocking this from happening. I believe we keep building layers of lock-in that prevent information from flowing freely, and that we have a lot to learn about the right thing to do in this respect.
I believe identity and presence and authentication and permissioning are in some ways the new battlegrounds, where the freedom of information flow will be fought for, and bitterly at that. Currybetdotnet - Martin Belam's blog. Software Is Media. I've made this point in several talks I've given recently so for those of you who attended or watched the talks on video aren't new to this meme.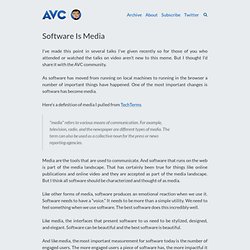 But I thought I'd share it with the AVC community. As software has moved from running on local machines to running in the browser a number of important things have happened. One of the most important changes is software has become media. Here's a definition of media I pulled from TechTerms "media" refers to various means of communication. Every Company Is A Media Company.
---