10.45am Break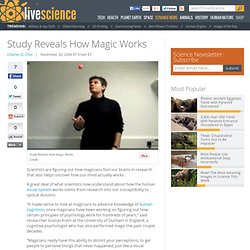 Study Reveals How Magic Works
Scientists are figuring out how magicians fool our brains in research that also helps uncover how our mind actually works. A great deal of what scientists now understand about how the human visual system works stems from research into our susceptibility to optical illusions. "It made sense to look at magicians to advance knowledge of human cognition, since magicians have been working on figuring out how certain principles of psychology work for hundreds of years," said researcher Gustav Kuhn at the University of Durham in England, a cognitive psychologist who has also performed magic the past couple decades.
A 5-minute drivelapse of the country.
Eye Tricks: Gallery of Optical Illusions | Visual Illusions | Rubin's Vase & Hering Illusion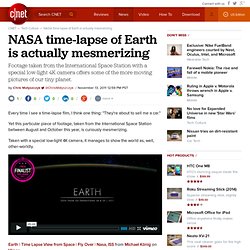 Every time I see a time-lapse film, I think one thing: "They're about to sell me a car." Yet this particular piece of footage, taken from the International Space Station between August and October this year, is curiously mesmerizing. Taken with a special low-light 4K camera, it manages to show the world as, well, other-worldly. Earth | Time Lapse View from Space | Fly Over | Nasa, ISS from Michael König on Vimeo. Posted to Vimeo by the film's editor, Michael Koenig, it melds the passing of time over various continents and timezones into a quite stunning impression of a planet that still enjoys life and beauty, even if it's not always immediately visible.
NASA time-lapse of Earth is actually mesmerizing | Technically Incorrect
What could be better than Google Maps? C3 Technologies' stunning 3D city displays, which let you rotate, zoom and pan through the city as if you'd modeled it all on your computer. The technology, which uses footage captured from airplanes and processed through a formerly proprietary military missile-guidance system, absolutely must be seen to be believed.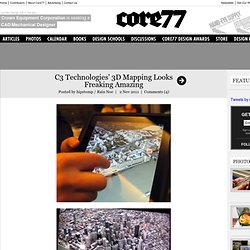 C3 Technologies' 3D Mapping Looks Freaking Amazing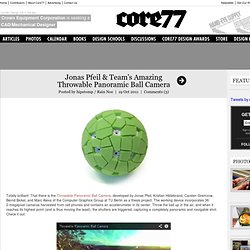 Totally brilliant: That there is the Throwable Panoramic Ball Camera, developed by Jonas Pfeil, Kristian Hildebrand, Carsten Gremzow, Bernd Bickel, and Marc Alexa of the Computer Graphics Group at TU Berlin as a thesis project. The working device incorporates 36 2-megapixel cameras harvested from cell phones and contains an accelerometer in its center. Throw the ball up in the air, and when it reaches its highest point (and is thus moving the least), the shutters are triggered, capturing a completely panoramic and navigable shot.
Jonas Pfeil & Team's Amazing Throwable Panoramic Ball Camera
Trippy Multidirectional Face Illusions
I love a good hack, especially one that requires me to throw back a cold one before hand (or during). This simple wifi boost has actually been shown to increase signal strength by at least 2 to 4 bars. And, well, I will drink to that. These instructions came to us via WikiHow and we think they are most definitely worth checking out. But here is the most important question: what kind of beer will you use? READ MORE: Intruders Beware: Homemade Robot Can Shoot 1,000 Rounds per Minute (Video)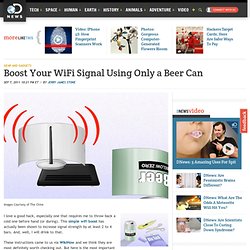 Boost Your WiFi Signal Using Only a Beer Can
The Hidden Infrastructure of the Internet - Kasia Cieplak-Mayr von Baldegg - Video
Bundled, Buried and Behind Closed Doors - Video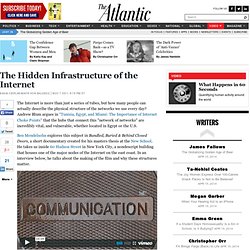 The Internet is more than just a series of tubes, but how many people can actually describe the physical structure of the networks we use every day? Andrew Blum argues in "Tunisia, Egypt, and Miami: The Importance of Internet Choke Points" that the hubs that connect this "network of networks" are incredibly vital, and vulnerable, whether located in Egypt or the U.S. Ben Mendelsohn explores this subject in Bundled, Buried & Behind Closed Doors, a short documentary created for his masters thesis at the New School.
Surf Video Suspends Time Like 'The Matrix' - Kasia Cieplak-Mayr von Baldegg - Video
10 Cases of Spontaneous Human Combustion
Every serious fire expert will tell you that spontaneous human combustion is a myth (this includes my cousin who is one of the two main Fire Marshalls for Baltimore City). Every single case that has been studied forensically has proven that there was an external ignition source and that the person burned inside of a small, tightly sealed room where their body essentially smoldered but could not fully ignite due to limited oxygen, that's why the rest of the room doesn't burn. Most times they are either drunk, unconscious, enfeebled or had some other situation like they actually died of natural causes and fell into an ignition source (fireplace, candle, etc.) which started them burning. In most cases the victim is usually at least somewhat overweight, which is also important. The small fire quickly eats up most of the oxygen in the room and then goes out, but the fat of their body acts just like a tallow candle, helping keep the slow smoldering going, often inside their body.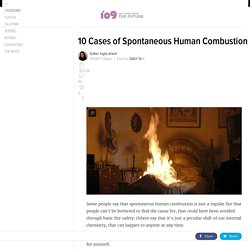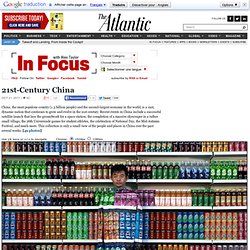 China, the most populous country (1.3 billion people) and the second-largest economy in the world, is a vast, dynamic nation that continues to grow and evolve in the 21st century. Recent events in China include a successful satellite launch that lays the groundwork for a space station, the completion of a massive skyscraper in a rather small village, the 26th Universiade games for student athletes, the celebration of National Day, the Mid-Autumn Festival, and much more. This collection is only a small view of the people and places in China over the past several weeks. [49 photos] Use j/k keys or ←/→ to navigate Choose: Chinese artist Liu Bolin waits for his colleagues to put a finishing touch on him to blend into rows of soft drinks in his artwork entitled "Plasticizer" to express his speechlessness at use of plasticizer in food additives, in his studio at the 798 Art District in Beijing, China, on August 10, 2011.
21st-Century China - Alan Taylor - In Focus
"It walks like it shit itself" -Karl Pilkington : funny
by Kirstin Butler From 50 Cent to Julia Child, or what Apocalypse Now has to do with sperm whales. Since 1998, Esquire magazine has conducted more than 300 interviews with artists, athletes, celebrities, entrepreneurs, musicians, politicians, scientists and writers. The series — called "What I've Learned" — provides a fascinating cross-section of the lives of prominent people. From Buzz Aldrin to Batman, the interview list reads like a Who's Who of our era. We've chosen 10 timeless quotes on how to live, from 10 of our favorite interviews in the series, a fine extension of these 5 guides to life from cultural luminaries, featured here last spring.
10 Life Lessons from Esquire's "What I've Learned" Interviews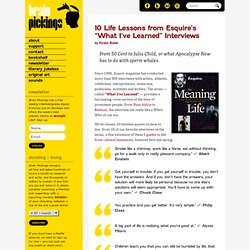 Dear Members of the Cult of Done, I present to you a manifesto of done. This was written in collaboration with Kio Stark in 20 minutes because we only had 20 minutes to get it done. The Cult of Done Manifesto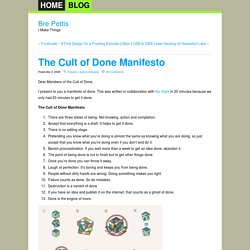 Bre Pettis | I Make Things - Bre Pettis Blog - The Cult of Done Manifesto
Mapping European Stereotypes
by Maria Popova Geopolitical cartography is all about an objective view of the world's political conventions. But there's nothing politically correct in Bulgarian-born, London-based designer Yanko Tsvetkov's Mapping Stereotypes project — a series of amusing, often tragicomically true maps of Europe based on various subjective perceptions and ideologies. Europe According to USA
"QUANTUM SHOT" #732Link - article by Avi Abrams These are very rare and beautiful visions, published in Japan in the 1930s-1960s We are continuing our ever-popular series of extremely rare and fantastic retrofuture finds (see here), in which we unearth futuristic gems from various countries and strange sources (mostly non-US).
Glorious Retrofuture from Japan
octopus
Fish Photographed Using Tools to Eat | Wired Science
By Mark Brown, Wired UK Professional diver Scott Gardner has captured what are believed to be the first images of a wild fish using a tool. The picture above, captured in Australia's Great Barrier Reef, shows a foot-long blackspot tuskfish smashing a clam on a rock until it cracks open, so the fish can gobble up the bivalve inside. [partner id="wireduk" align="right"]Tool use was once thought to be exclusive to humans, and was considered a mark of our superior intelligent and bulging brains. In recent decades, though, more and more animals have shown an ability to work with tools and objects. Elephants pick up branches with their trunk to swat flies and scratch themselves, a laboratory crow improvised a hooked tool from a wire to extract an insect and primates use sharpened sticks as spears, rocks to smash nuts and sticks to poke into ant nests.