ESL Web 2.0
Curating. Writing, Grammar, and Vocabulary. JotForm · Easiest Form Builder. MindShift | How we will learn. How Educators Can Protect Students' Data from Security Breaches Every day, teachers are responsible for maintaining numerous logins, passwords, data, and other private information about their students.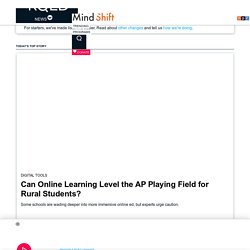 With so many tools, security and privacy are often an afterthought despite the increasing number of websites that fall victim to data breaches and security vulnerabilities each day. In the wake of the Heartbleed data security flaw discovered last week, here are measures teachers can take to secure school data. Web 2.0 teaching tools to enhance education and learning — Edjudo. 3D Projects Alice – Alice is an innovative 3D programming environment (free) Blender - Excellent open source 3D content creation suite (free, must install) PhotoSynth - A Microsoft web application that takes your photos, mashes them together and recreates a 3D scene out of them that anyone can view and move around in.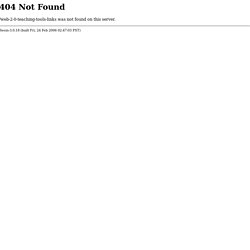 Windows only. A Website for Language Instructors in Ontario Canada to learn more about teaching using online resources. MindMaple - Mind Mapping Software - Improve Brainstorming Techniques. Google Docs for Learning. ELT Tool Kit. NanoGong - Home. What is NanoGong?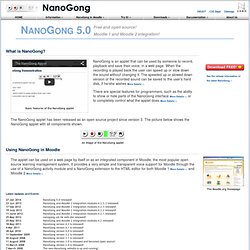 Basic features of the NanoGong applet NanoGong is an applet that can be used by someone to record, playback and save their voice, in a web page. When the recording is played back the user can speed up or slow down the sound without changing it. The speeded up or slowed down version of the recorded sound can be saved to the user's hard disk, if he/she wishes More Details ».
iPad Safari installation instruction. DotEPUB — download any webpage as an e-book. Text Compactor: Free Online Automatic Text Summarization Tool. Free online tutorials for learning to use technology and ict in education. 100+ Google Tricks for Teachers. It's Google's world, we're just teaching in it.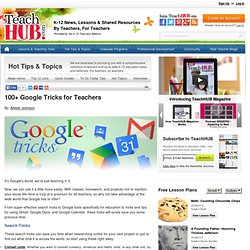 Now, we can use it a little more easily. With classes, homework, and projects–not to mention your social life–time is truly at a premium for all teachers, so why not take advantage of the wide world that Google has to offer? From super-effective search tricks to Google tools specifically for education to tricks and tips for using Gmail, Google Docs, and Google Calendar, these tricks will surely save you some precious time. Search Tricks These search tricks can save you time when researching online for your next project or just to find out what time it is across the world, so start using these right away. Free Nuts - All the interesting web apps here are delicious and free! CoolToolsfor21stCenturyLearners - CoolTools Vocabulary. No Registration Needed for Students - List.
Real-time local Twitter trends. World History : HyperHistory. Historypin | Home. Socrative | Student Response System | Audience Response Systems | Clicker | Clickers | Student Clickers | ARS | Mobile Clicker | Software Clicker.
Tips2012 iPad App Guide #10: Socrative. Socrative is marketed as a "student engagment" and "instant assessment" e-clicker device which runs off ANY web browser (on your laptop, smartphone, iPod, iPad, etc).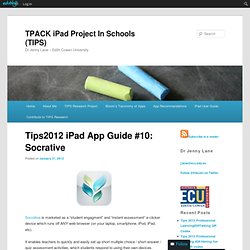 It enables teachers to quickly and easily set up short multiple choice / short-answer / quiz assessment activities, which students respond to using their own devices. Student responses are collated, and displayed on the classroom screen or emailed to the teacher. According to educational research by deJong and Lane et.al (2009), many students and teachers find "clickers" extremely engaging, so Socrative may well be worth experimenting with (depending on your preferred teaching approach). It is a cheaper alternative to traditional (hardware) clicker response systems. For: Students, Teachers (in 1:1 or BYOD classrooms), University Lecturers. The 35 Best Web 2.0 Classroom Tools Chosen By You. 100 Web 2.0 Tools Every Teacher Should Know About 44.24K Views 0 Likes We're always trying to figure out the best tools for teachers, trends in the education technology industry, and generally doing our darnedest to bring you new and exciting ways to enhance the classroom.
Bloom's Apps - 21nnovate. Bloomsapps. Using Blooms Taxonomy in education is a highly effective way to scaffold learning for the students.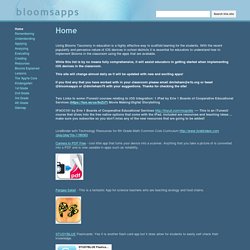 With the recent popularity and pervasive nature of iOS devices in school districts it is essential for educators to understand how to implement Blooms in the classroom using the apps that are available. While this list is by no means fully comprehensive, it will assist educators in getting started when implementing iOS devices in the classroom. EdApps.ca. Resources for EFL students. 50 Must-Have Educational Apps. It's time for holiday road trips and you know what that means: driving, flying, cranky kids, and… teaching opportunities!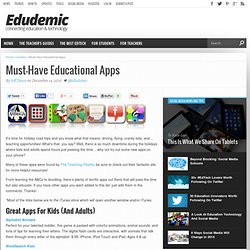 What's that, you say? Well, there is so much downtime during the holidays where kids and adults spend hours just passing the time… why not try out some new apps on your phone? Triptico | Inspiration for Imaginative Teachers | Interactive Resources for Imaginative Teachers. Tech Tools for Teachers.
By Nik Peachey Tech expert Nik Peachey presents an invaluable series on using technology in the classroom.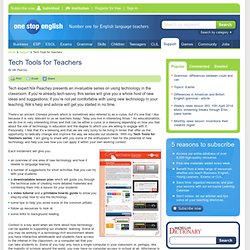 If you're already tech-savvy, this series will give you a whole host of new ideas and suggestions; if you're not yet comfortable with using new technology in your teaching, Nik's help and advice will get you started in no time. There's an ancient Chinese proverb which is sometimes also referred to as a curse, but it's one that I like because it is very relevant to us as teachers today: "May you live in interesting times." iPad - Why? How? Functions eBook Reader Could be amazing if publishing houses get their acts together.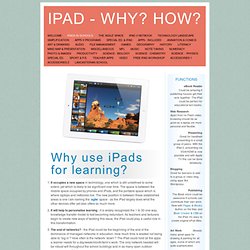 The iPad could be perfect for educational text books. Web Research. Free Infographic Tools. School2 - home. 12 Dozen Places To Educate Yourself Online For Free. Post written by: Marc Chernoff Email All education is self-education. Period. It doesn't matter if you're sitting in a college classroom or a coffee shop. Cool Websites, Software and Internet Tips. Prepare for Success. E-moderation station.
Web.AppStorm | Web Applications Reviewed, Rounded Up & Explained. Present Anywhere from the Web, iPad, iPhone, or Android. The Knowledge Sharing Place. To create your own LiveBinder all you have to do is add the "LiveBinder It" bookmarklet tool to your favorite browser. While browsing the web, every time you find a link you want to save, click on the "LiveBinder It" button and save directly to a new or existing LiveBinder. Check that your 'Bookmarks' toolbar is visible - in your browser go to 'View > Toolbars >' and place a check next to 'Bookmarks Toolbar' Simply drag this button: up to your toolbar.
---