Home
Floor Plan Light Switch. Posted on March 4, 2011 by saya Ever had any difficulty to find out which switch is controlling which light?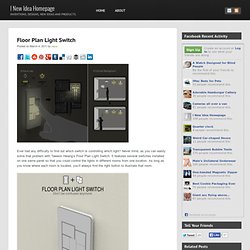 Never mind, as you can easily solve that problem with Taewon Hwang's Floor Plan Light Switch. It features several switches installed on one same panel so that you could control the lights in different rooms from one location. PANORAMICDOORS.COM THE NEXT GENERATION OF PATIO DOORS.
Library. Christmas Interiors. The extravagance of Christmas never needs justification!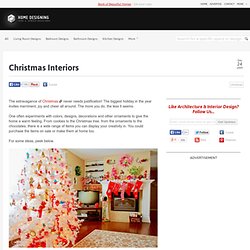 The biggest holiday in the year invites merriment, joy and cheer all around. The more you do, the less it seems. One often experiments with colors, designs, decorations and other ornaments to give the home a warm feeling. From cookies to the Christmas tree, from the ornaments to the chocolates, there is a wide range of items you can display your creativity in. You could purchase the items on sale or make them at home too. Christmas1.jpg (JPEG Image, 700x467 pixels)
Ideal home. Kitchen. Outside. Shop Class Storage Chest. Closet. Bathroom.
---