Desserts
Oreo Stuffed Chocolate Chip Cookies. Alright, confession time.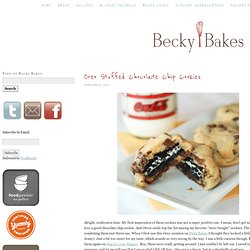 My first impression of these cookies was not a super positive one. I mean, don't get me wrong…I love a good chocolate chip cookie. And Oreos easily top the list among my favorite "store bought" cookies. The idea of combining them just threw me. Creamy Caramel Apple Shortcakes. You remember those caramel apples on a stick that you loved as a kid, I don't know too many people that don't like them, except for maybe those with dentures or braces.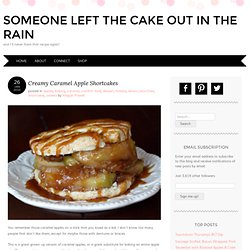 This is a great grown up version of caramel apples, or a great substitute for baking an entire apple pie. This caramel sauce is creamy divinity and makes enough for you to add to anything you put in your mouth, at least for the next few days! Make this for your Valentine or as an addition to any great meal! Don't be intimidated by making your own shortcakes or the length of this recipe. It's super easy and the perfect basic stepping stone for any kid of shortcakes or biscuits. Someone Left The Cake Out In The Rain. Deep Fried Strawberries. I know what you may be thinking.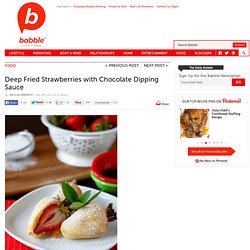 It's a little out of the ordinary BUT if you give this a try, I think you just might be pleasantly surprised. Strawberries are everywhere right now and I'm always looking for ways to use them. We've already shared a trio of beverage ideas using strawberries: STRAWBERRY MARGARITA GRANITA , STRAWBERRY AGUA FRESCA , and a NUTELLA STRAWBERRY SMOOTHIE. When my friend mentioned to me that she had DEEP FRIED STRAWBERRIES for dessert while dining out the other night I knew immediately I HAD to make them and I'm so happy I did. I went with a more savory batter to compliment the sweet, sweet strawberries and was super pleased with the results. Cookie-Stuffed Cookies. [Photographs: Adam Kuban] Have you seen Pinterest yet?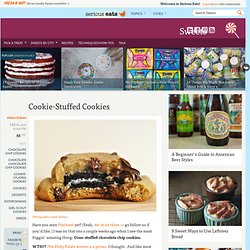 (Yeah, we're on there — go follow us if you'd like.) I was on that site a couple weeks ago when I saw the most friggin' amazing thing: Oreo-stuffed chocolate chip cookies. La La Love You. Is it weird that Valentines Day is one of my #1 favorite holidays?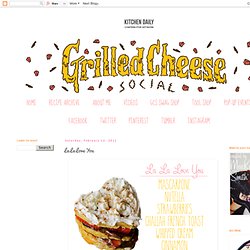 Especially considering the fact that I can't actually remember the last time I've had a boyfriend during this emo-as-hell day? Maybe it's just that I le love the idea of love (and that i want my life to be a magnetic fields song). Chocolate Chip Cookie Dough Truffles | recipegirl.com. Chocolate Chip Cookie Dough Truffles I've never liked chocolate chip cookies.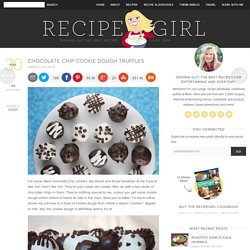 Go ahead and throw tomatoes at me if you'd like, but I don't like 'em. They're just a plain old cookie, after all, with a few studs of chocolate chips in them. The ice cream you've never seen before (32 pics) Strawberry Buckle Muffins. Occasionally, I take an online stroll through this blog to check on things, as I did yesterday.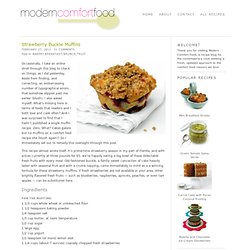 Aside from finding, and correcting, an embarrassing number of typographical errors that somehow slipped past me earlier (blush), I also asked myself: What's missing here in terms of foods that readers and I both love and cook often? And I was surprised to find that I hadn't published a single muffin recipe. Zero. What? Funnel Cakes - Two Ways. Who can resist those soft and ever so slightly crispy rafts of fried dough?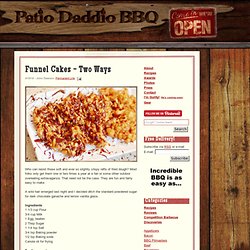 Most folks only get them one or two times a year at a fair or some other outdoor overeating extravaganza. That need not be the case. They are fun and fairly easy to make. A wild hair emerged last night and I decided ditch the standard powdered sugar for dark chocolate ganache and lemon vanilla glaze. Ingredients1 1/3 cup Flour3/4 cup Milk1 Egg, beaten2 Tbsp Sugar1 1/4 tsp Salt3/4 tsp Baking powder1/2 tsp Baking sodaCanola oil for frying.
What goes into making chocolate bowls. Leave it up to me to mess up every recipe in the world... but on the flipside, by experiencing everything that goes wrong, I end up learning the most.I had seen these bowls from Stephanie's Kitchen, and decided it was a fantastic idea for my food independent study. ingredients: chocolate, and balloons!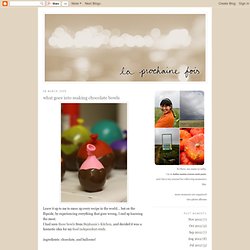 First, a giant bar of chocolate all the way from taiwan! And it's -special- grade, whatever that means. Cookie Dough Dip. Go put on your stretchy pants.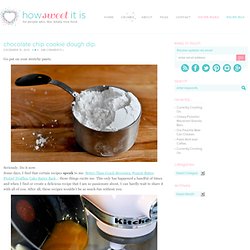 Seriously. Do it now. Some days, I find that certain recipes speak to me. Better-Than-Crack-Brownies, Peanut Butter Pretzel Truffles, Cake Batter Bark… those things excite me. Delicious Meliscious - a cooking blog by Melissa: Cheesecake Stuffed Strawberries. Not being a fan of chocolate covered strawberries, I was happy to find these CHEESECAKE stuffed strawberries on The Novice Chef. You only need a few ingredients to put these together and they turn out to be quite impressive. Try them - you won't be disappointed! Chocolate Cupcakes with Flaming Strawberries. Call me easily amused, but these little torch-topped cupcakes delight me. Besides being a cute novelty item for a party, I think they would add a little drama to the end of a romantic meal. I've been looking for something different to serve for Valentine's dessert, and this is definitely different. The strawberries are hollowed out and filled with a bit of liquor, then ignited with a match. Cakespy: Behemoth Crumb Cake.
Jessie Oleson (aka Cakespy) drops by every Monday to share a delicious dessert recipe. —The Mgmt. [Original artwork and photographs: Jessie Oleson] When it comes to crumb, I have a theory: if some is good, more is better. Know your apples: The spectrum of apple flavors. Anonymous said... Saved to my iPhone for future reference. THANKS! July 20, 2010 at 4:39 PM. Apple Pie Egg Rolls : : Miss in the Kitchen. Apple Cake in an Iron Skillet. Blog Archive » Caramel-Apple Pie. Upside Down Apple Pie. Apple Jalapeno Gruyere Grilled Mini Calzones. Apple BBQ Sauce.
---