Hierarchies
Not well!!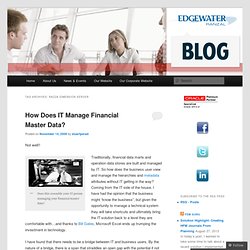 razza dimension server « Ranzal & Associates' Weblog
Hyperion Data Relationship Management | Financial Master Data Ma
Trees in SQL
A set-oriented method for representing trees in SQL that runs orders of magnitude faster than the adjacency list (i.e. child-parent pairs) method.
On its face, the relational database management system would appear to be a very poor tool for representing and manipulating trees. This chapter is designed to accomplish the following things: show you that a row in an SQL database can be thought of as an object show you that a pointer from one object to another can be represented by storing an integer key in a regular database column demonstrate the Oracle tree extensions (CONNECT BY ...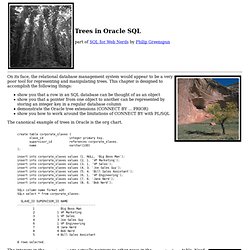 Representing Trees in Oracle SQL
This article was written in 2003 and remains one of our most popular posts. If you're keen to learn more about mastering database management, you may find this recent article on MySQL of great interest.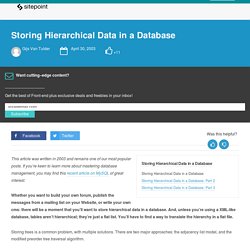 Storing Hierarchical Data in a Database [PHP & MySQL Tutorials]
Published in Association with the Meta-Data and Data Modeling Summit June 14-16, 2005 - Long Branch, New Jersey For more information please visit - http://www.debtechint.com/summit2005/summit2005.htm
Modeling Hierarchies
Joe Celko's Trees and Hierarchies in SQL for Smarties, (The Morg