Juegos
Get flash to fully experience Pearltrees
Vea el tutorial sobre la colocación de señales para una introducción práctica a la señalización Las señales son dispositivos útiles que le permiten controlar el movimiento de los trenes . Son necesarias para evitar las colisiones en las redes ferroviarias con varios trenes circulando.
Hola a tod@s. Soy usuario de ubuntu desde hace un tiempo, y antes de pasar-me a linux jugaba bastante a un juego llamado Urban Terror, pero al moverme a Linux, me resultó muy difícil instalarlo, y luego de mucho tiempo buscando y probando, lo he conseguido.
The creators of getdeb.net present to you our latest service that caters to the Ubuntu gamer.
Simutrans 112.2 for Linux Create the transport networks you always dreamed of. Other Options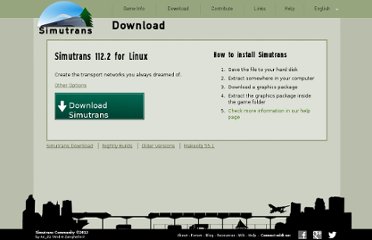 Visto que la gente principalmente tiene como primer problema para migrar a Linux es el tema de los juegos, os vamos a dejar una lista detallada de juegos en la que hacemos hincapié para demostrar que en Linux también se puede jugar y bien. Vamos a animar un poco el domingo entonces. Los juegos que os proponemos son la mayoría 3D y nativos de Linux, sin necesidad de tener que correr Wine o similares.