Macintosh
Switch
Finer Things in Mac. Mcl - Project Hosting on Google Code. Open source version of the Macintosh Common Lisp development environment.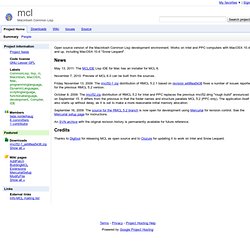 Works on Intel and PPC computers with MacOSX 10.4 and up, including MacOSX 10.6 "Snow Leopard". News May 13, 2011: The MCLIDE Lisp IDE for Mac has an installer for MCL 6. November 7, 2010: Preview of MCL 6.0 can be built from the sources. Friday November 13, 2009: The rmcl52-1 zip distribution of RMCL 5.2.1 based on revision a498ea5438 fixes a number of issues reported for the previous RMCL 5.2 version.
The Graphing Calculator Story. MacNN Forums. My Life With Computers " Modus Ponens v2.1.2.
---