Java 1
Developing with real-time Java, Part 1: Exploit real-time Java&#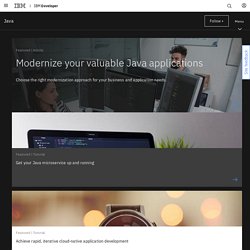 Real-time Java is a set of enhancements to the Java language that provide applications with a degree of real-time performance that exceeds that of standard Java technology.
Michael Dykman I am probably the last person on this list who should pipe in here.
Stories/MichaelDykman - J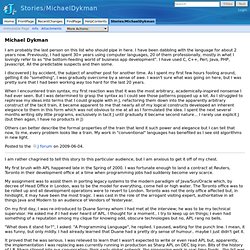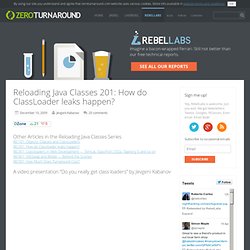 Other Articles in the Reloading Java Classes Series A video presentation "Do you really get class loaders" by Jevgeni Kabanov From ClassLoaders to Classes
How do ClassLoader leaks happen?
args4j: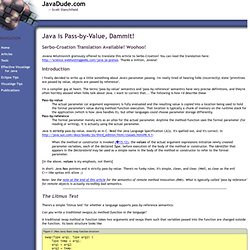 Java is Pass-by-Value, Dammit!
Serbo-Croation Translation Available! Woohoo! Jovana Milutinovich gratiously offered to translate this article to Serbo-Croation!
Earlier this year I wrote a build tool in java. The core idea at the time was to express the build in terms of functions and function composition.
Objects as Functions in Java
What I miss in Java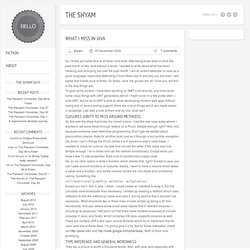 So I finally got some time to sit down and write, after being knee deep in work the past month or two.
Signalling Integer Overflows in Java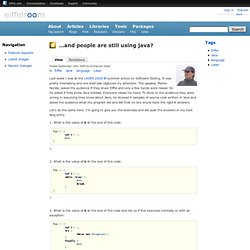 Last week I was at the LASER 2009 summer school on Software Testing. It was pretty interesting and one brief talk captured my attention.
...and people are still using java?
DEADBEEF or CAFEBABE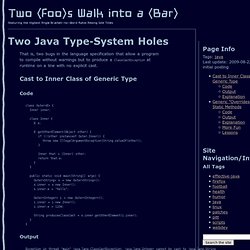 Two Java Type‐System Holes
Code Output
Next Generation Java is not very different from today's Java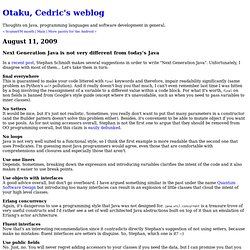 Next Generation Java is not very different from today's Jav
Java's Lots of Little Files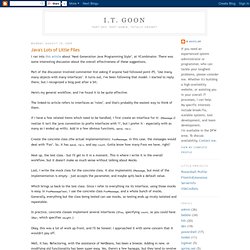 I ran into this article about "Next Generation Java Programming Style", at YCombinator.
August 10, 2009 by Stephan Schmidt
Go Ahead: Next Generation Java Programming Style
I have been working with Java since the mid nineties, and in that time, Java has gone from being a "fad", the next "big thing", etc, to becoming a widely accepted and deployed programming language in the business world. Being involved with Java for a long time has its share of ups and downs. On the plus side, you know and understand the very basic foundations of the language and its evolution, on the negative side you sometimes talk about stuff no one else has a clue about.
A Java old timer reminisces – Oak, 0XCAFEBABE, Green Threads, Ru
Double Brace Initialisation
The high cost of (WS-)Security
WS-Security provides a comprehensive set of security features for Web service applications, building on established industry standards for cryptography and XML encryption and signing. You can specify the features to be used for a particular application with WS-Policy and WS-SecurityPolicy, allowing clients of the service to configure themselves automatically to access the service.
#534364
Keynote: The Future of Java Innovation
Bio
We often discuss Java limitations on IRC and try to come up with (sometimes silly) workarounds. Unfortunately after time passes it's often easy to forget the outcome, and lose code snippets.
Ternary Try/Catch
Common Java Cookbook
Original Sin
Is Java as we know it doomed?
Mulling over Java
Transaction strategies: The API Layer strategy
Why Java doesn't need operator overloading (and very few la
MVEL - Home
Small Language Changes for JDK7
Putting Java's Null in its Place
Presenting the Permanent Generation
Busting java.lang.String.intern() Myths
Correcting the Billion Dollar Mistake
Ten Amazing Java Applications
How to deal with filesystem softlinks/symbolic links in Java
How much memory is used by my Java object?
Jedi - Examples
Java : the perpetually undead language
Data Rattle
Heterogeneous Lists and the Limits of the Java Type System
The case for Java modularity - Java World
Top 3 Reasons Why Constructors are Worthless
Build an Embedded Array Language in Java
Java Is Too Academic
The Long Strange Trip to Java
Java in 2008