Physics
Superbugs from space offer new source of power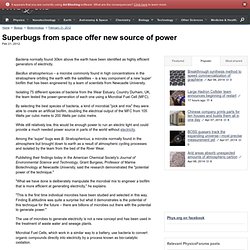 Bacteria normally found 30km above the earth have been identified as highly efficient generators of electricity. Bacillus stratosphericus – a microbe commonly found in high concentrations in the stratosphere orbiting the earth with the satellites – is a key component of a new 'super' biofilm that has been engineered by a team of scientists from Newcastle University. Isolating 75 different species of bacteria from the Wear Estuary, Country Durham, UK, the team tested the power-generation of each one using a Microbial Fuel Cell (MFC).
Free Physics Video Lecture courses
Physics Quiz - in Russian
Welcome to YouTube! The location filter shows you popular videos from the selected country or region on lists like Most Viewed and in search results.To change your location filter, please use the links in the footer at the bottom of the page. Click "OK" to accept this setting, or click "Cancel" to set your location filter to "Worldwide".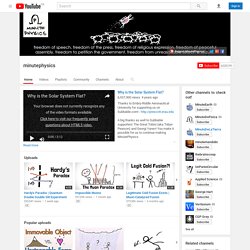 Nanoelectronics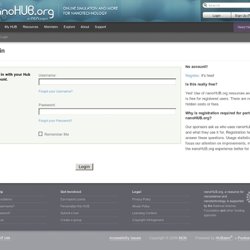 No account? Register . It's free!
Feb. 19, 2012 — The smallest transistor ever built -- in fact, the smallest transistor that can be built -- has been created using a single phosphorus atom by an international team of researchers at the University of New South Wales, Purdue University and the University of Melbourne. The single-atom device was described Sunday (Feb. 19) in a paper in the journal Nature Nanotechnology . Michelle Simmons, group leader and director of the ARC Centre for Quantum Computation and Communication at the University of New South Wales, says the development is less about improving current technology than building future tech. "This is a beautiful demonstration of controlling matter at the atomic scale to make a real device," Simmons says.
Single-atom transistor is end of Moore's Law; may be beginning of quantum computing
Graphene electronics moves into a third dimension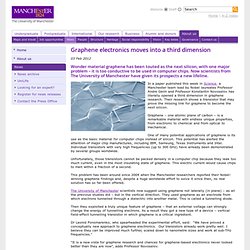 03 Feb 2012 Wonder material graphene has been touted as the next silicon, with one major problem – it is too conductive to be used in computer chips. Now scientists from The University of Manchester have given its prospects a new lifeline. In a paper published this week in Science , a Manchester team lead by Nobel laureates Professor Andre Geim and Professor Konstantin Novoselov has literally opened a third dimension in graphene research.
An obstacle to the use of graphene as an alternative to silicon electronics has been the absence of an energy gap between its conduction and valence bands, which makes it difficult to achieve low power dissipation in the OFF state. We report a bipolar field-effect transistor that exploits the low density of states in graphene and its one-atomic-layer thickness. Our prototype devices are graphene heterostructures with atomically thin boron nitride or molybdenum disulfide acting as a vertical transport barrier. They exhibit room-temperature switching ratios of ≈50 and ≈10,000, respectively.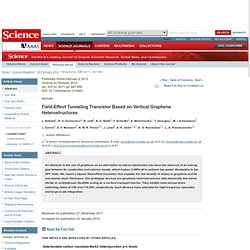 Field-Effect Tunneling Transistor Based on Vertical Graphene Heterostructures
The Future of Nano-Electric Power Generation