9/11
Who Killed John O'Neill?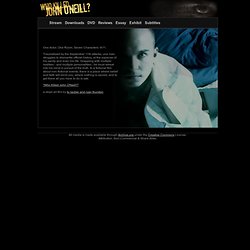 One Actor, One Room, Seven Characters: 9/11. Traumatized by the September 11th attacks, one man struggles to dismantle official history, at the expense of his sanity and even his life. Grappling with multiple realities - and multiple personalities - he must retreat into his mind in pursuit of the truth. In a fictional film about non-fictional events, there is a place where belief and faith will blind you, where nothing is sacred, and to get there all you have to do is ask:
General of all American Intelligence: 911 was a fraud!
Who Killed John O'Neill?
z. brzezinski note
U.S. narcotics policy in Afghanistan has been subordinated ... Who is Tim Osman? Ask Jeeves, he knows Bin Laden's Oxford days Bin Laden Comes Home to Roost (local MHTML) - 1998 MSNBC story on Maktab al-Khidamar, Pakistan, and the CIA.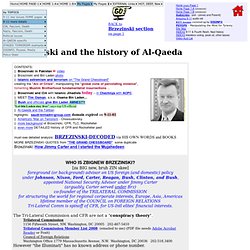 Take Over World (Akron, OH) (homepage 1 of 3)
Complete 911 Timeline
According to the 2008 charge sheet at his military tribunal, 9/11 facilitator Ali Abdul Aziz Ali speaks on the telephone to 9/11 hijacker Nawaf Alhazmi, who is living in San Diego at this time. The call or calls are apparently made at the direction of alleged 9/11 mastermind Khalid Shaikh Mohammed and are about a wire transfer from Ali to Alhazmi made in mid-April (see April 16-18, 2000). The source of the claim that the calls are made contained in the charge sheet is not specified, so it is unclear whether it is only based on statements made by detainees under interrogation, which may be unreliable (see June 16, 2004), or whether it is corroborated by other evidence, such as phone company records. [US Department of Defense, 2/11/2008 ] At least some calls between Alhazmi and his partner, hijacker Khalid Almihdhar, and an al-Qaeda communications hub in Yemen are being monitored by the NSA at this point (see Spring-Summer 2000).