9/11
Who Killed John O'Neill?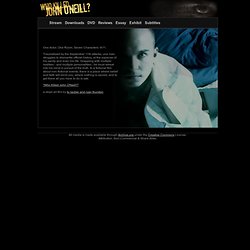 One Actor, One Room, Seven Characters: 9/11. Traumatized by the September 11th attacks, one man struggles to dismantle official history, at the expense of his sanity and even his life. Grappling with multiple realities - and multiple personalities - he must retreat into his mind in pursuit of the truth. In a fictional film about non-fictional events, there is a place where belief and faith will blind you, where nothing is sacred, and to get there all you have to do is ask:
General of all American Intelligence: 911 was a fraud!
Who Killed John O'Neill?
WKJO: Who Killed John O'Neill?
z. brzezinski note
WHO IS ZBIGNEW BRZEZINSKI? [za BIG new, bruh ZIN skee] foreground (or background) advisor on US foreign (and domestic) policy under Johnson, Nixon, Ford, Carter, Reagan, Bush, Clinton, and Bush , appointed National Security Advisor under Jimmy Carter (arguably, Carter served under Brz) co-founder of the TRILATERAL COMMISSION for structuring the world for regional corporate interests, Europe, Asia, Americas lifetime member of the COUNCIL on FOREIGN RELATIONS Tri-Lateral Comm is spinoff of CFR, for US-Intl elites' financial interests. The Tri-Lateral Commission and CFR are not a " conspiracy theory ". Trilateral Commission 1156 Fifteenth Street, NW, Washington, DC 20005 202-467-5410 Trilateral Commission Member List 2008 (emailed to me) (PDF file needs Adobe Acrobat Reader or Foxit) Council of Foreign Relations Washington Office 1779 Massachusetts Avenue, N.W.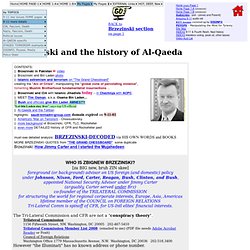 Take Over World (Akron, OH) (homepage 1 of 3)
Complete 911 Timeline
After deciding to end his career as an informant against radical Islamists in London (see April 21, 2000 ), Reda Hassaine reflects bitterly on his experience of the British security services, MI5 and the Metropolitan Police's Special Branch: "These guys I was risking my life for—they hadn't arrested anybody, they didn't do a proper job. All the work I had done, all the risks I took didn't seem to amount to anything. All this killing was taking place abroad, but the British didn't give a sh*t that the killers were here in London. As long as nothing happened in Britain, then everything was alright. Abu Hamza [al-Masri, another MI5 informer (see Early 1997 )] was left to do whatever he liked, to brainwash, to recruit, and send people off to the training camps. I was telling the British this all the time.