Sheet music
Browse by composer: Bach, Beethoven, Chopin, Diabelli, Handel, Mozart, Schumann, Sor. [Full list of composers] Browse by instrument: Piano, Vocal, Organ, Violin, Guitar, Orchestra. [Full list of instruments] List all music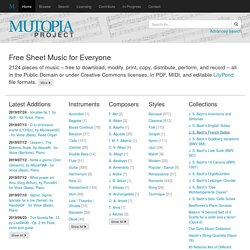 Mirror TU Wien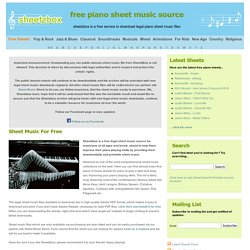 Important announcement: Downloading any non public-domain sheet music file from SheetzBox is not allowed. This decision is taken by discussions with legal authorities and to respect and protect the artists' rights. The public domain sheets will continue to be downloadable and the archive will be extended with new legal sheet music downloads regularly. All other sheet music files will be redirected to our partner site Sheet Music Stock to let you, our fellow musicians, find the sheet music easily to purchase. We, Sheetzbox team, hope that it will be understood that this was the inevitable result and would like to assure you that the Sheetzbox archive will grow faster with new legal sheet music downloads, continue to be a valuable resource for musicians all over the world.
Free Piano Sheet Music Download
klaviernotens Jimdo-Page!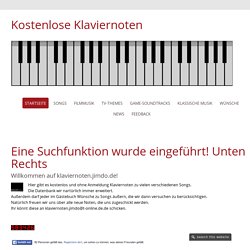 Hier gibt es kostenlos und ohne Anmeldung Klaviernoten zu vielen verschiedenen Songs. Die Datenbank wir nartürlich immer erweitert. Außerdem darf jeder im Gästebuch wünsche zu Songs äußern, die wir dann berücksichtigen. Natürlich freuen wir uns über alle neue Noten, die uns zugeschickt werden.