art
Get flash to fully experience Pearltrees
By Anna Edwards PUBLISHED: 14:53 GMT, 18 August 2012 | UPDATED: 15:22 GMT, 18 August 2012 With their sharp lines, clear colours and distinct shapes, these images look like the work of a gifted photographer.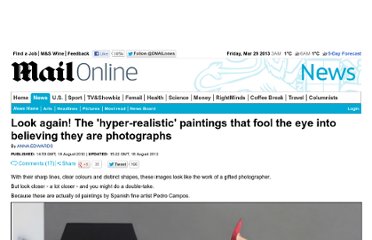 Film roll canisters: these little but sturdy metal containers protect our precious film. Yet for all their help, they get discarded during the film process, made to wander aimlessly through a sad landfill. Restore them back to life (and glory) by turning your film roll canisters into nifty little invitations ! It's the perfect way to give your pals the FYI about your next snazzy summer shindig or announce that wedding bells are a-ringing. Recycle and indulge in your love for all things photography with this DIY! Make Film Roll Invites
Gismonda, 1894 by Alphonse Mucha , a leading artist of the Art Nouveau movement Art Nouveau ( French pronunciation: ​ [aʁ nu'vo] , Anglicised to / ˈ ɑː r t n uː ˈ v oʊ / ) is an international philosophy [ 1 ] and style of art, architecture and applied art —especially the decorative arts —that were most popular during 1890–1910. [ 2 ] The name "Art Nouveau" is French for "new art". It is known also as Modernisme in Catalonia ( Spain ), with its most notable contributions by the architect Antoni Gaudí . Known as Jugendstil , pronounced [ˈjuːɡn̩tstiːl ] in Germany, German for "youth style" or "the style of youth", named after the magazine Jugend , which promoted it, as Modern (Модерн) in Russia, perhaps named after Parisian gallery "La Maison Moderne", as Secession in Austria-Hungary and its successor states after the Viennese group of artists , and, in Italy, as Stile Liberty from the department store in London, Liberty & Co. , which popularised the style.