Sewing
Sewing in a Straight Line by Brett Bara – How to Sew a Skirt in One Hour on Vimeo
A talented seamstress with a mission, Renske Solkesz decided to create her own wardrobe after finding herself frustrated with high fashion prices. When we saw her chic and modern wardrobe creations, we asked if she'd be willing to create and share a fun accessory tutorial with us. I'm super excited about what she's come up with: an amazing self-closing utilitarian tote!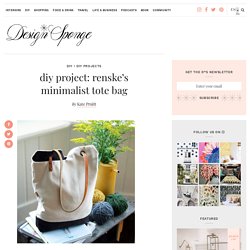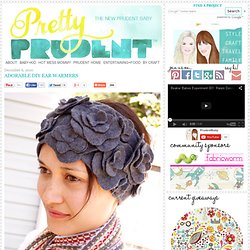 How gorgeous are these ear warmers?? I love all the different styles you can make from one tute as well. When I spied these on Delia Creates I just had to beg Delia to share the DIY with you, and lucky us, she agreed! Take it away Delia:
Our Travel Accessories series is sponsored by Free Spirit Fabrics , as part of our introducing Anna Maria Horner 's beautiful new Loulouthi fabric collection. Today's project is also sponsored in part by Fat Quarter Shop , who provided the featured Loulouthi print and Fabric.com , who provided the rich 100% cotton twill . Both sites have great selections in stock and ready to ship. We recommend using a twin or double needle to do the decorative stitching on this project. Check your supplies to see if your machine came with one.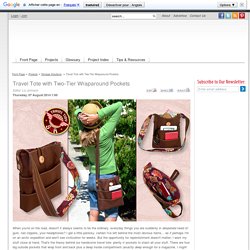 Totes make great handmade gifts. Here is a Tuesday Ten that shows a round-up of lovely totes. If you love to sew you might also like these free sewing tutorials right here on Skip to my Lou!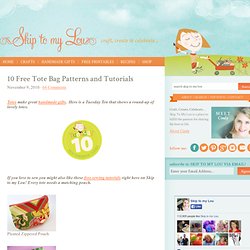 Before we went away, I decided that a new bag for the beach was a must – something big and roomy to hold books, magazines, sunscreen, hats, and all that other good stuff. So I made this big pleated tote, and it worked perfectly. This is a picture of it in action: And here's a little tutorial in case you want to make one for yourself – doesn't have to be for the beach either, it could come in handy for schlepping all kinds of things around town. Here's what you need: two pieces of your main fabric cut in shape A four pieces of the top shape (B) in a contrasting fabric two pieces of a lining fabric in shape C one piece of the long rectangle for the strap in the contrasting fabric two pieces of the top shapes (B) and one of the strap in a medium weight interfacing 1) Along the longest (22″) edge of the main fabric pieces, mark along the top at the following intervals: 3″ – 4″ – 6″ – 7″ – 9″ – 10″ – 12″ – 13″ – 15″ – 16″ – 18″ – 19″