Technology Assessment
technology_assessment.pdf (application/pdf Object)
In 1970 a radical document called The Sussex Manifesto helped shape modern thinking on science and technology for development. Forty years on, what kind of science and technology for development Manifesto is needed for today's world? The STEPS Centre has created a new manifesto with one of the authors of the original, Professor Geoff Oldham. With cutting-edge ideas and some Southern perspectives, the New Manifesto will recommend new ways of linking science and innovation to development for a more sustainable, equitable and resilient future. » read more The multimedia version of the New Manifesto is illustrated with video, audio and other materials collected during the project, as well as relevant resources drawn from the work of other people and organisations.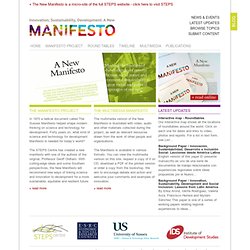 False economy : Nature
An unofficial theme has become evident at ESOF over the past number of days. It was ignited by Jules Hoffmann during the first keynote speech which emphasised the importance of "work based purely on curiosity". Since then, basic fundamental research has been highlighted repeatedly. This resounding message was acknowledged by the President of the Royal Irish Academy, Prof.
Back to the basics « Science Calling!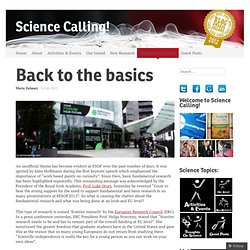 European Citizen's Initiative explained « eolas magazine