SCHOOL OF DATA
EUROPEANA - Hackathons - api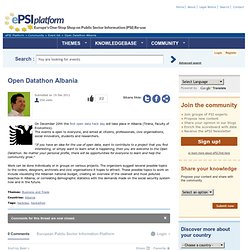 Open Datathon Albania
On December 20th the first open data hack day will take place in Albania (Tirana, Faculty of Economics). The events is open to everyone, and aimed at citizens, professionals, civic organisations, social innovators, students and researchers. " If you have an idea for the use of open data, want to contribute to a project that you find interesting, or simply want to learn what is happening, then you are welcome to the Open Datathon. No matter your personal profile, there will be opportunities for everyone to learn and help the community grow.
Bio: This is my first on-line course so I'm excited to learn how I will learn via this format. Interestingly, I discovered this site and these particular courses from one of my friends, a curious soul from Nepal.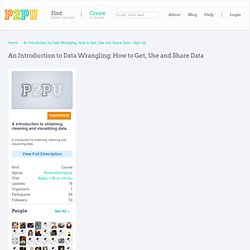 An Introduction to Data Wrangling: How to Get, Use and Share Data | Sign-Up
Patterns - Data wrangling for fun and profit — datapatterns v0.1 documentation
The School of Data Handbook is a companion text to the School of Data . Its function is something like a traditional textbook – it will provide the detail and background theory to support the School of Data courses and challenges. The Handbook should be accessible to all learners. It comes with a Glossary explaining the important terms and concepts. If you stumble across an unexplained term or a concept that requires more explanation, please do get in touch.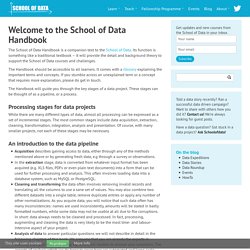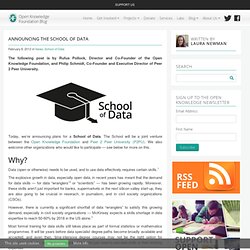 Announcing the School of Data
The following post is by Rufus Pollock, Director and Co-Founder of the Open Knowledge Foundation, and Philip Schmidt, Co-Founder and Executive Director of Peer 2 Peer University. Today, we're announcing plans for a School of Data . The School will be a joint venture between the Open Knowledge Foundation and Peer 2 Peer University (P2PU) . We also welcome other organizations who would like to participate — see below for more on this.