SCHOOL OF DATA
SCHOOL ADDRESS
EUROPEANA - Hackathons - api. Open Datathon Albania. An Introduction to Data Wrangling: How to Get, Use and Share Data | Sign-Up. Bio: This is my first on-line course so I'm excited to learn how I will learn via this format.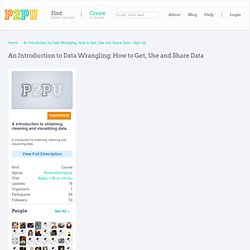 Interestingly, I discovered this site and these particular courses from one of my friends, a curious soul from Nepal. Patterns - Data wrangling for fun and profit — datapatterns v0.1 documentation. The Open Data Manual — Open Data Manual v2.0alpha documentation. Announcing the School of Data. The following post is by Rufus Pollock, Director and Co-Founder of the Open Knowledge Foundation, and Philip Schmidt, Co-Founder and Executive Director of Peer 2 Peer University.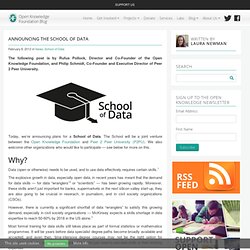 Today, we're announcing plans for a School of Data. The School will be a joint venture between the Open Knowledge Foundation and Peer 2 Peer University (P2PU). We also welcome other organizations who would like to participate — see below for more on this.
---