Pesquisas sobre BD PI
Applicants for national or international IP protection are required to determine whether their creation is new or owned/claimed by someone else. To determine this, huge amounts of information must be searched. International classifications facilitate such searches by organizing information concerning inventions, trademarks and industrial designs into indexed, manageable structures for easy retrieval. Locarno Classification The Locarno Classification (LOC) is an international system used to classify goods for the purposes of the registration of industrial designs. It was established by the Locarno Agreement in 1968 and is continuously revised by the Committee of Experts of the Locarno Union.
WIPO - International Classifications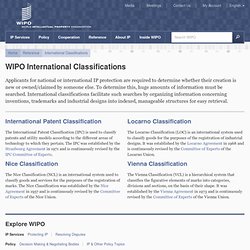 INPI - Instituto Nacional da Propriedade Industrial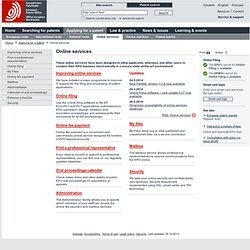 These online services have been designed to allow applicants, attorneys and other users to conduct their EPO business electronically in a secure state-of-the-art environment. Improving online services We have initiated a major programme to improve IT support for the filing and processing of patent applications. Online filing Use the online filing software to file EP, Euro-PCT and PCT applications; submissions in EPO opposition, appeal, limitation and revocation proceedings; and subsequently filed documents for all EP proceedings.
Online services