Dobavljaci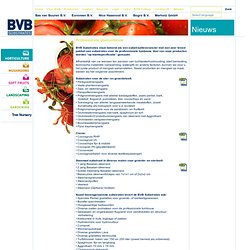 unnamed pearl
BVB Substrates staat bekend als een substraatleverancier met een zeer breed pakket aan substraten voor de professionele tuinbouw. Veel van onze producten worden "op klantspecificatie" gemaakt. Afhankelijk van uw wensen ten aanzien van luchtwaterhuishouding, start bemesting, technische installatie (verwarming, watergift) en andere factoren, kunnen wij voor u het juiste product of mengsel samenstellen. Naast producten en mengsel op maat, bieden wij het volgende assortiment: Substraten voor de sier- en groenteteelt: • Perkgoedmengsels • Vaste-plantenmengsels • Zaai- en stekmengsels • Perspottenmengsels • Potgrondmengsels met allerlei toeslagstoffen, zoals perliet, bark,
Young Plants & Plugs Overview AZALEAS - Florists Quality West Coast material. Keepsake Plants™ (formerly Yoder brand) Dormant, Ready to Force, and Finished Azaleas. COOL GROWING CROPS - Anemones, Cineraria, Cyclamen, Primula, Pansies, and Ranunculus are available in seed, corm, plug and pre-finished stages. CUT FLOWER CROPS - A Gloeckner specialty.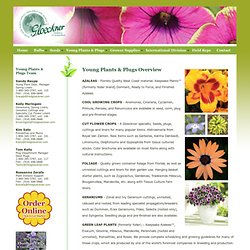 Young Plants and Plugs Overview - Fred C. Gloeckner & Company Inc. - Bulbs, Seeds, Plants, Supplies from World Wide Sources
Beekenkamp, Maasdijk < Beekenkamp | beekenkamp.nl
Sakata is a world leader in breeding and producing vegetable and ornamental seed and vegetative cuttings. Sakata breeders around the world work diligently to develop varieties that offer superior performance and set new standards for the industry. Sakata is quite proud that 2013 marks our centennial year. We look forward to joining the ranks of those few companies that have had the honor of celebrating this milestone. To learn more, click here.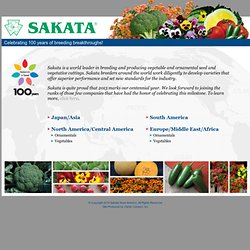 Sakata Global Gateway
.: Vrtnarstvo Antolin l sadike l vrtnarstvo l največja izbira cvetja :.
PLA International APS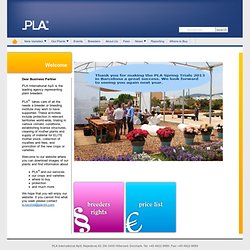 Dear Business Partner PLA International ApS is the leading agency representing plant breeders. PLA® takes care of all the needs a breeder or breeding institute may wish to have supported. These activities include protection in relevant territories world-wide, trialing in various climatic conditions, establishing license structures, cleaning of mother plants and supply of material for ELITE mother stock, collection of royalties and fees, and promotion of the new crops or varieties.
Gruppo Padana - Produzione e vendita giovani piantine di qualità
GPNMag.com and Greenhouse Product News (GPN) magazine - Horticulture and Commercial Growers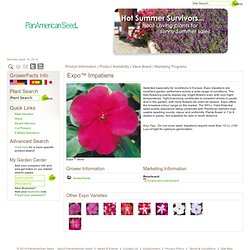 Selected especially for conditions in Europe, Expo impatiens are excellent garden performers across a wide range of conditions. The free-flowering plants display big, bright flowers even with cool night temperatures. Tight branching contributes to excellent shows in packs and in the garden, with more flowers per plant all season. Expo offers the broadest colour range on the market.
Expo™ Impatiens
Floramedia / Home :: making your business bloom - concepts / design / labels / packaging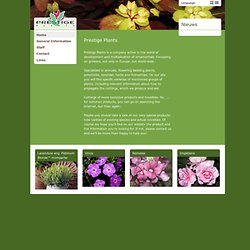 unnamed pearl
Prestige Plants is a company active in the world of development and multiplication of ornamentals. Focussing on growers, not only in Europe, but world-wide. Specialized in annuals, flowering bedding plants, perennials, lavender, herbs and Poinsettias. On our site you will find specific varieties of mentioned groups of plants. Including relevant information about how to propagate the cuttings, which we produce and sell. Cuttings of more exclusive products and novelties.