Dobavljaci
Substrati
Untitled. BVB Substrates staat bekend als een substraatleverancier met een zeer breed pakket aan substraten voor de professionele tuinbouw.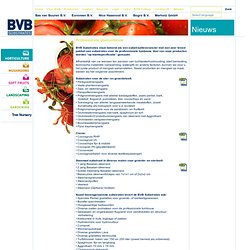 Veel van onze producten worden "op klantspecificatie" gemaakt. Afhankelijk van uw wensen ten aanzien van luchtwaterhuishouding, start bemesting, technische installatie (verwarming, watergift) en andere factoren, kunnen wij voor u het juiste product of mengsel samenstellen. Naast producten en mengsel op maat, bieden wij het volgende assortiment: Substraten voor de sier- en groenteteelt: • Perkgoedmengsels • Vaste-plantenmengsels • Zaai- en stekmengsels • Perspottenmengsels • Potgrondmengsels met allerlei toeslagstoffen, zoals perliet, bark, Young Plants and Plugs Overview - Fred C. Gloeckner & Company Inc. - Bulbs, Seeds, Plants, Supplies from World Wide Sources. Young Plants & Plugs Overview AZALEAS - Florists Quality West Coast material.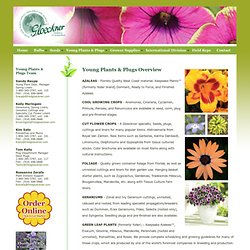 Keepsake Plants™ (formerly Yoder brand) Dormant, Ready to Force, and Finished Azaleas. COOL GROWING CROPS - Anemones, Cineraria, Cyclamen, Primula, Pansies, and Ranunculus are available in seed, corm, plug and pre-finished stages. CUT FLOWER CROPS - A Gloeckner specialty. Beekenkamp, Maasdijk < Beekenkamp | beekenkamp.nl. Sakata Global Gateway. .: Vrtnarstvo Antolin l sadike l vrtnarstvo l največja izbira cvetja :. PLA International APS. Gruppo Padana - Produzione e vendita giovani piantine di qualità. GPNMag.com and Greenhouse Product News (GPN) magazine - Horticulture and Commercial Growers. Expo™ Impatiens. Selected especially for conditions in Europe, Expo impatiens are excellent garden performers across a wide range of conditions.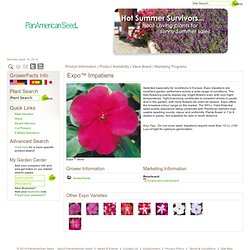 The free-flowering plants display big, bright flowers even with cool night temperatures. Tight branching contributes to excellent shows in packs and in the garden, with more flowers per plant all season. Expo offers the broadest colour range on the market. Floramedia / Home :: making your business bloom - concepts / design / labels / packaging. Untitled.
---