Skater Hockey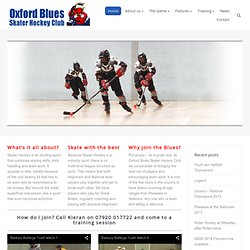 Oxford Blues Skater Hockey Club
Skater Hockey is an exciting sport that combines skating skills, stick handling and team work. It appeals to kids, initially because of the cool looking kit that has to be worn and its resemblance to ice hockey. But beyond the initial superficial impression, lies a sport that soon becomes addictive. Because Skater Hockey is a minority sport, there is no multi-level league structure as such. This means that both beginners and National level players play together and get to know each other.
BiSHA - British Inline Skater Hockey Association
British Inline Puck Hockey Association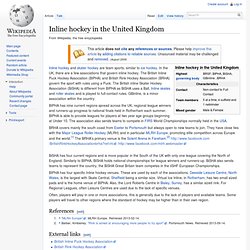 Inline hockey and skater hockey are team sports, similar to ice hockey. In the UK, there are a few associations that govern inline hockey. The British Inline Puck Hockey Association (BIPHA) and British Rink Hockey Association (BRHA) govern the sport with rules using a Puck. The British inline Skater Hockey Association (BiSHA) is different from BIPHA as BiSHA uses a Ball, Inline skates and roller skates and is played to full-contact rules. GBinline, is a minor association within the country. BIPHA has nine current regions spread across the UK, regional league winners and runners-up progress to national finals held in Rotherham each summer.
Inline hockey in the UK
Bauer RX15 Inline Hockey Skates