Programming
Coding resources for beginners. Getting Started with Google Analytics on Android. The Google Analytics SDK is an SDK that you can use with your existing Android applications.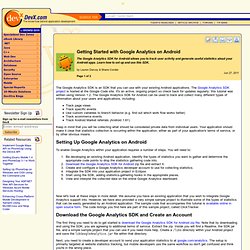 The Google Analytics SDK project is hosted at the Google Code site. It's an active, ongoing project so check back for updates regularly; this tutorial was written using Version 1.2. The Google Analytics SDK for Android can be used to track and collect many different types of information about your users and applications, including: JavaScript Tutorials for All Levels of Programming | The JavaScript Source.
Javascript As a Foreign Language. So you know 37 different programming languages, you've programmed moon landers, missiles and toasters, and how could Javascript be any problem?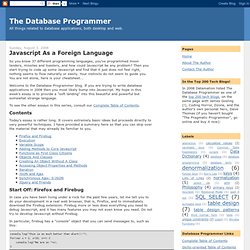 Then you start trying to code up some Javascript and find that it just does not feel right, nothing seems to flow naturally or easily. Your instincts do not seem to guide you.
.Net. PHP. Bluetooth. Professor Cloud. Cloud Zoom: a jQuery image zoom plugin.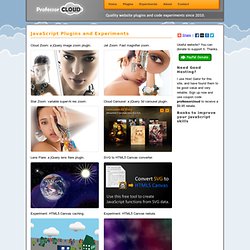 Jet Zoom: Fast magnifier zoom. Star Zoom: variable super-hi res zoom. Cloud Carousel: a jQuery 3d carousel plugin. Lens Flare: a jQuery lens flare plugin. SVG to HTML5 Canvas converter. Essential Google Chrome Extensions for Web Developers | TotalBakwas | Technology, Entertainment, Humour, … Web Design Process.
---