Bottom of the pyramid
Le plus souvent, ces produits sont mis sur les marchés des pays pauvres en Asie ou en Amérique latine. L'idée est simple: proposer un produit bon marché, en plus petite quantité, ou spécifiquement adapté aux besoins quotidiens des plus pauvres. >L'exemple le plus célèbre est celui d'Essilor. Depuis 2003, l'entreprise d'optique propose des paires de lunettes à moins de 5 euros dans le sud de l'Inde. Essilor finance également une série de tests ophtalmiques dans des régions enclavées, ainsi que des opérations dans des hôpitaux locaux.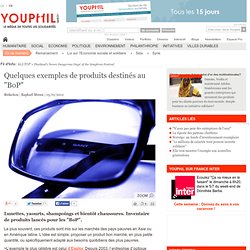 Quelques exemples de produits destinés au "BoP"
Dès 2004, Stuart Hart*, professeur d'économie américain, publiait avec son collègue C.K. Prahalad, initiateur du modèle « BOP », l'ouvrage intitulé « The fortune at the bottom of the pyramid », désignant les quatre milliards de personnes en situation de grande pauvreté, à la « base de la pyramide » mondiale et le rôle des entreprises sur ce marché invisible en matière d'accès à l'eau, à l'énergie, à la santé, etc. Le but, in fine, étant de rendre accessibles des produits et services à une population certes vaste mais vivant avec moins de 2 dollars par jour… et pour cela revoir les modèles traditionnels de l'économie de marché ou de l'aide au développement.
Introduction à la notion "Base of the Pyramid" de Thierry Sibieude