Wineracks & bottlebased DIY
DIY : wine rack with mailing tube
OK, confession: I'm on Weight-Watchers. And a major part of the program isn't completely restricting what you eat and drink, but you DO have to watch and control your portions. This goes for wine, too. And since I do like a glass of vino now and then, I thought I'd made my own special glass to hold my five ounces of joy! I chose a stemless wine glass and measured out 5 ounces of water and poured it in the glass.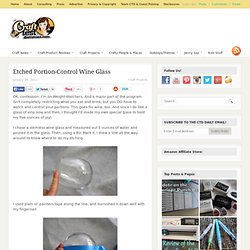 Turn Beer Bottles into Party Glassware
Factory Table Wine Rack | Decorative Accents
Binder Clips Keep Beverages Stacked in Your Fridge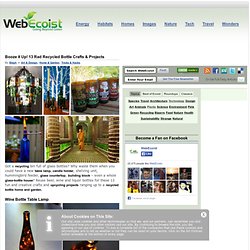 Got a recycling bin full of glass bottles? Why waste them when you could have a new table lamp, candle holder , shelving unit, hummingbird feeder, glass countertop , building block – even a whole glass-bottle house ? Reuse beer, wine and liquor bottles for these 13 fun and creative crafts and upcycling projects ranging up to a recycled bottle home and garden . Wine Bottle Table Lamp
WINE BOTTLE TEA LIGHT HOLDER | Votive, Light, Sconce, Lantern, Party Lights
Unwind With A Bottle Of Light These recycled wine bottle votives give light to a worthy cause--pairing mentally challenged adults with freelance designers to create award-winning, functional products. After studying at the University of Arts in Berlin, designer Jette Scheib traveled to the US, learning new techniques and meeting other designers. On returning to Germany, she became involved with Side by Side, where she works with mentally challenged adults to create these luminous lanterns that are as beautiful as they are useful. Handmade in Germany.