Text tutorials
Text effects are used in almost everything we see: whether it a simple inner or drop shadow, a subtle gradient, or a full-blown illustrated header. Below we have a selection of thirty great tutorials from across the design community, ready for you to follow and pick up tons of new techniques. You'll be a text-effect master before we can say the word " go!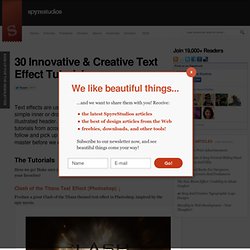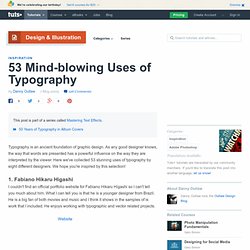 This entry is part 1 of 19 in the Mastering Text Effects Session - Show All Next » Typography is an ancient foundation of graphic design. As any good designer knows, the way that words are presented has a powerful influence on the way they are interpreted by the viewer. Here we've collected 53 stunning uses of typography by eight different designers.
53 Mind-blowing Uses of Typography
There are thousands of Photoshop tutorials out there, but few that are top-notch in terms of instructions, presentation – and of course – outcome. In this post, you'll find 30 beautiful, high-quality Adobe Photoshop tutorials from top tutorial sites and designers like PSDTUTS, PSHERO, and Abduzeedo. 1.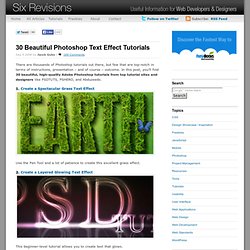 Vintage style design is all about making things look old. This can be achieved by using using elements in your designs that appear to be from decades ago, and when done well can create a mood for your web design that will leave a lasting impressions on visitors. In this article, we've rounded up a bunch of Photoshop brushes that will be very useful to you when trying to achieve that vintage look. Vintage Camera Brushes Vintage Grunge Vintage Anatomy Set 1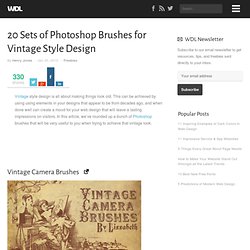 Advertisement Photoshop's text and layer tools can be used to create some really cool effects. There are thousands of Photoshop Tutorials out there, but few that are top-notch in terms of instruction, appearance and outcomes. In this collection, you will find cool text effects, typography, creative, 3D, burning effects, ice effects etc. You may also be interested in the following collections of Photoshop tutorials:
25 Cool Photoshop Text Effects Tutorials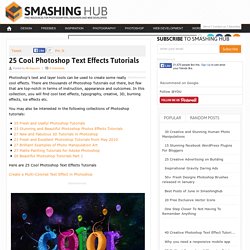 How to Place a Fantasy Creature in a Misty Landscape
This time I've got for you a photo manipulation tutorial. We'll grab several photos and create this fantasy mock-up of an unreal creature. We'll learn several non-destructive techniques, apply photo filters to adjust the lighting, and of course a little bit of the creative process involved on this piece.
It seems that text effects have become extremely popular over the last years. Thanks to the new advanced tools and commands Adobe is adding to Photoshop in each new release, users can create more complex typography artworks instead of the dull and boring headlines of the past.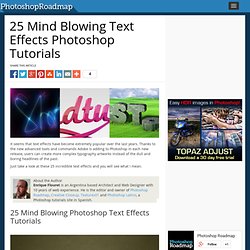 This is a collection of my favourite Photoshop text effects that look pretty sweet, I would recommend experimenting with these styles if your looking for some thing a little bit different. Candy Coated Text Smooth Glass Type