Penpaper
Acrylic Time Lapse Painting Lessons Old Tree by Tim Gagnon 18 X 36. Watercolors by Grzegorz Wróbel. 21 Mind-Blowing Hyperreal Paintings. As an outgrowth of photorealism, hyperrealism is a relatively new school of painting that creates the illusion that you're actually looking at a photo.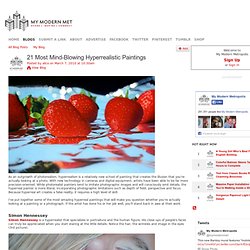 With new technology in cameras and digital equipment, artists have been able to be far more precision-oriented. While photorealist painters tend to imitate photographic images and will consciously omit details, the hyperreal painter is more literal, incorporating photographic limitations such as depth of field, perspective and focus. Because hyperreal art creates a false reality, it requires a high level of skill. I've put together some of the most amazing hyperreal paintings that will make you question whether you're actually looking at a painting or a photograph. If the artist has done his or her job well, you'll stand back in awe at their work. Pedro Campos | Photorealist Painter. Do It Yourself Doodler | David Jablow. So I am many things in this world, but an artist is not one of them.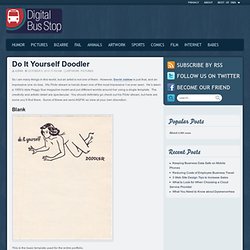 However, David Jablow is just that, and an impressive one no less. His Flickr stream is hands down one of the most impressive I've ever seen. He's taken a 1950′s style Peggy Sue magazine model and put different worlds around her using a single template. The creativity and artistic detail are spectacular. You should definitely go check out his Flickr stream, but here are some you'll find there. Stop Motion Drawing 2: Sugar Skull by Paul Alexander Thornton. Drawings That Turns Into An Outstanding 3D Images.
Drawings That Turns Into An Outstanding 3D Images Posted on 25 April 2010 Crni Istvan Orosz is graphic designer and his work is recognized in some on animated films as animator and also a director in a few.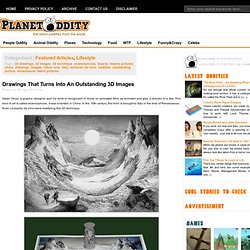 ---