Lights
Outdoor Living: Outdoor Lighting Ideas - Martha Stewart
Gjør det selv - Slik lager du en lampe av vinflasker - Bonytt - klikk.no
VANNSAG: Et suverent verktøy, koster 3-400 kroner. © Foto: Øivind Lie Romjulen kan være tiden for litt gjør-det-selv virksomhet. Vi har laget en hengelampe i glass tidligere her på klikk.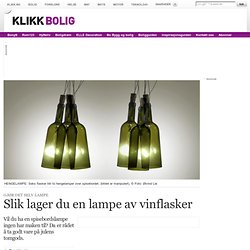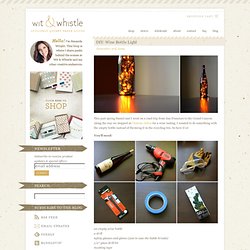 November 3rd, 2009 This past spring Daniel and I went on a road trip from San Francisco to the Grand Canyon. Along the way we stopped at Chateau Julien for a wine tasting. I wanted to do something with the empty bottle instead of throwing it in the recycling bin. So here it is!
i love wax paper for packing lunches; i wrap sandwiches in a piece of wax paper and tie it like a present with a little cotton string. it's so much better looking than a plastic bag. wax paper comes in handy for more things than i realized, like rolling it up to use for a funnel, or how about rubbing a piece of wax paper on the top of your shower curtain rod to cut down on that terrible screeching in the morning…problem solved. but who knew that if you iron layers of wax paper together it looks remarkably similar to a capiz shell? this discovery brought me to today's project: the faux capiz chandelier. hung over your dining table, or outside at an outdoor dinner party, it is an easy solution to a dramatic light fixture and will look phenomenal in either setting. i hope you enjoy making your own as much i did! -brenna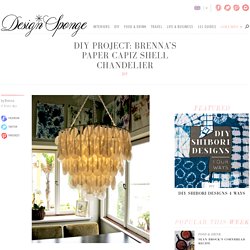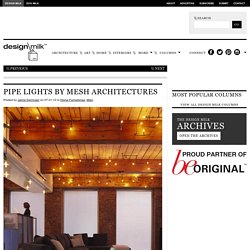 Eric Liftin, principal of MESH Architectures handcrafts pipe lights in a variety of configurations including custom insalls. The fixtures are made from iron plumbing pipe and almost have the appearance of tree branches. The fixtures cast a low, soft light akin to candlelight, but unlike candles these lamps can be switched or dimmed with a simple touch.
Pipe Light is an installation on an abandoned house in São Paulo, Brazil by French-Brazilian architects Triptyque. The project, part of a design show held at the property earlier this year, comprises metal tubing and lamps wrapped around the inside and outside of the building. The installation was commissioned Houssein Jarouche, owner of the adjacent furniture and homeware store Micasa. More Dezeen stories about Triptyque:
Pipe Light by Triptyque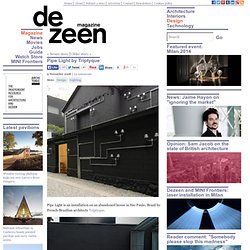 Lighting Made of Galvanized Iron