Lights
Outdoor Living: Outdoor Lighting Ideas - Martha Stewart
Your guests will love seeing their names in lights. These glowing place cards are votive holders wrapped in paper, inscribed on opposite sides. This way, others can read the names from across the table -- helpful if people are meeting for the first time.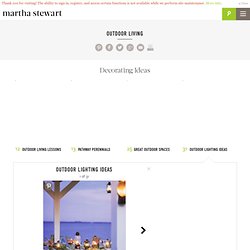 Gjør det selv - Slik lager du en lampe av vinflasker - Bonytt - klikk.no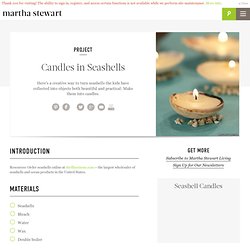 Here's a creative way to turn seashells the kids have collected into objects both beautiful and practical: Make them into candles.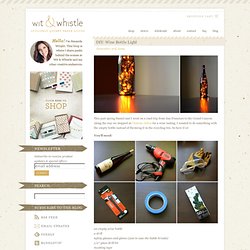 November 3rd, 2009
i love wax paper for packing lunches; i wrap sandwiches in a piece of wax paper and tie it like a present with a little cotton string. it's so much better looking than a plastic bag. wax paper comes in handy for more things than i realized, like rolling it up to use for a funnel, or how about rubbing a piece of wax paper on the top of your shower curtain rod to cut down on that terrible screeching in the morning…problem solved. but who knew that if you iron layers of wax paper together it looks remarkably similar to a capiz shell? this discovery brought me to today's project: the faux capiz chandelier. hung over your dining table, or outside at an outdoor dinner party, it is an easy solution to a dramatic light fixture and will look phenomenal in either setting. i hope you enjoy making your own as much i did! - brenna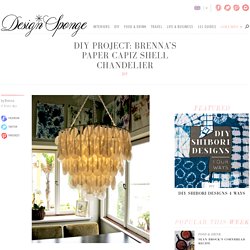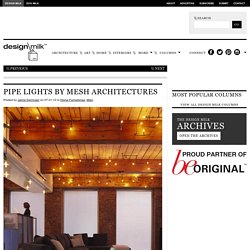 Eric Liftin, principal of MESH Architectures handcrafts pipe lights in a variety of configurations including custom insalls. The fixtures are made from iron plumbing pipe and almost have the appearance of tree branches. The fixtures cast a low, soft light akin to candlelight, but unlike candles these lamps can be switched or dimmed with a simple touch.
Pipe Light is an installation on an abandoned house in São Paulo, Brazil by French-Brazilian architects Triptyque .
Pipe Light by Triptyque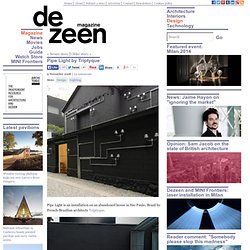 Lighting Made of Galvanized Iron