Furniture
How to build a concrete table for beginnersDIY Projects with Pete - Wood, Metal, Concrete and other DIY Projects. Concrete furniture looks amazing and really is cheap to do.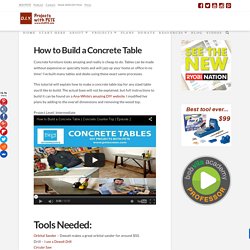 Tables can be made without expensive or specialty tools and will jazz up your home or office in no time! I've built many tables and desks using these exact same processes. How to Build a Concrete Table - DIY Projects with Pete - Episode 2. Skateboard deck stairs. 12 Unusual Modern Coffee Tables. Collection of modern coffee tables and unusual table designs that will spice up any room in your house.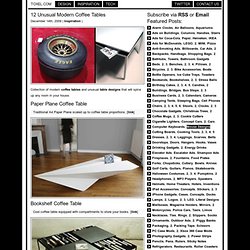 Paper Plane Coffee Table Traditional A4 Paper Plane scaled up to coffee table proportions. Hand Cut Double Dovetail Experiment - by Woodhacker. After admiring the double and double-double dovetail joints that are capable with the Incra and other jigs, I started thinking, "Why not try this by hand?"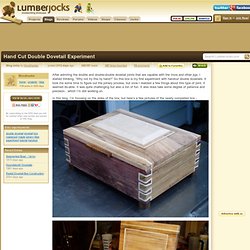 So this box is my first experiment with handcut double dovetails. It took me some time to figure out the joinery process, but once I realized a few things about this type of joint, it seemed do-able. DIY: Furniture Makeovers. I'm obsessed with making-over old, worn out furniture.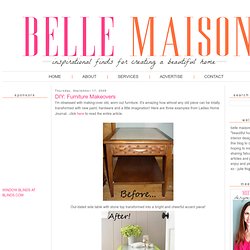 It's amazing how almost any old piece can be totally transformed with new paint, hardware and a little imagination! Here are three examples from Ladies Home Journal...click here to read the entire article. Edison Reclaimed Timber Table. We've all got things in our homes that started out life in Thomas Edison's head -- like light bulbs, music players, and video cameras.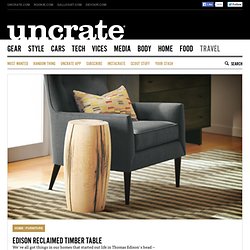 Now you can bring a piece of one of Edison's factories into your home in the literal sense with an Edison Reclaimed Timber Table ($280-$350). Available in four sizes, these limited edition side tables are made from red pine wood beams salvaged from Edison's Wisconsin phonograph factory, then shaped and finished by hand before arriving on your doorstep, ready to serve as a table, stool, nightstand, or simple conversation piece. Slik fikk stuebordet ny stil - tema. Online » How-To: Build large couches on the cheap.
---