Cars
Backdated 911 - 88 Carrera To Early 911 | 9 Magazine. When is an early Porsche 911 not an early 911?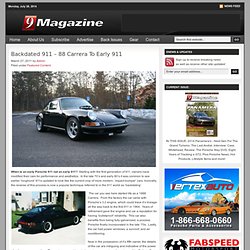 Starting with the first generation of 911, owners have modified their cars for performance and aesthetics. In the late 70's and early 80's it was common to see earlier 'longhood' 911s updated to look like the current crop of more modern, 'impact-bumper' cars. DarrylD's Porsche 911 Restoration Project Journal. Darryl's 1974 Porsche 911 Restoration Project Journal Last Updated on September 27, 2009 Entry: 11/4/04 - Oh BOY a new TOY!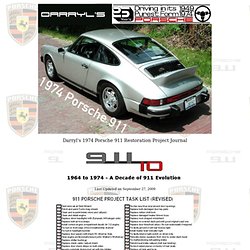 I just became the most recent owner of this '74 911 for $9,500 today! I can't wait to begin applying TLC detailing to what I think is a diamond in the rough. DarrylD's Porsche 911 Restoration Project Journal. Ultimate Backdating Thread. Mark..that sucks..it'll be tough to be left behind, but you are going to be in California man!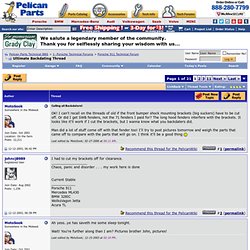 And close enough to TRE! I can't wait to see your creation. Paul, it is mostly an asthetic thing. The weight savings is a bonus. If you have ever read my CTR conversion thread, it all started with my my failed search for early car fenders, steel fenders. My 1977 911 S widebody backdate project. Here is my current project - a 1977 911S.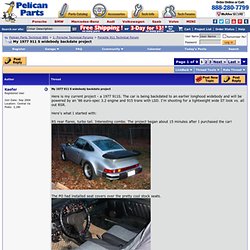 The car is being backdated to an earlier longhood widebody and will be powered by an '86 euro-spec 3.2 engine and 915 trans with LSD. I'm shooting for a lightweight wide ST look vs. all out RSR. Here's what I started with: RS rear flares, turbo tail. Interesting combo. 27 Unfvckwithable | StanceWorks. Stance|Works has been built on the mentality that if a car has an attractive "stance" then it's something that any enthusiast can appreciate, no matter the make, model or decade in which it was built.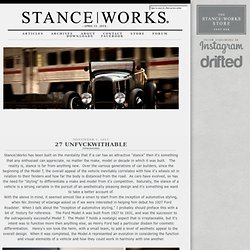 The reality is, stance is far from anything new. Over the various generations of car builders, since the beginning of the Model T, the overall appeal of the vehicle inevitably correlates with how it's wheels sit in relation to their fenders and how far the body is distanced from the road. As cars have evolved, so has the need for "styling" to differentiate a make and model from it's competition. Naturally, the stance of a vehicle is a strong variable in the pursuit of an aesthetically pleasing design and it's something we want to take a better account of.
Gallery. Subaru Impreza WRC99 tarmac action - with pure engine sounds. 2010 Singer Porsche 911 is Classic Hotness Reinvented [PICS] Classic Porsche 911s have been in the midst of a retro-mod renaissance lately, with lots of money going into taking fuzzy, sentimental visions of grainy oversaturated '70s awesomeness and transforming it into a real-world rolling art.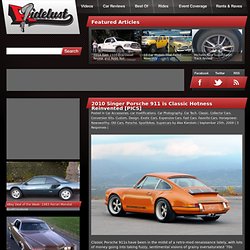 R-Gruppe cars, love 'em or hate 'em, are the ultimate Porkers in this genre. However, Singer Vehicle Design of Los Angeles has jumped into the fray, seriously reworking an air-cooled long-wheelbase 911 into a modern performance car, doing what Porsche couldn't (as they switched to water-cooling with the 996). As Singer puts it, "… have the evolved water-cooled 911's proven more enjoyable? Is the drive more fulfilling? Vertigo .5 Spirit from Gillet Automobiles. | Cars world blog. Crazy Insane VIP car in Japan 2. Chainlink extreme 4x4. Pagani, the Story of a Dream - Books. Contents: - Complete Horacio Pagani history by Hugo Racca, Horacio's best friend and coauthor of the book - official Horacio Pagani interviews on his life, career and philosophy - personal unpublished archive of the Pagani's family - all most suggestive images of the Zonda - all Zonda's versions with technical datas, images, and complete chassis index - interviews and commentaries by Gian Paolo Dallara, Gordon Murray, Valentino Balboni and Paul Frére.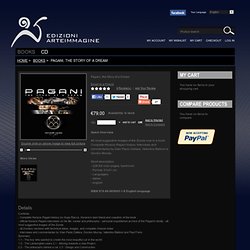 Incredible Gallery of Art Deco Vehicles. Jul 27, 2010 1938 Delahaye 135 MS Torpedo Roadster Embracing a variety of influences from Neoclassical, to cubism, to modernism; Art Deco flourished in the 1920s and 1930s, affecting all areas of design.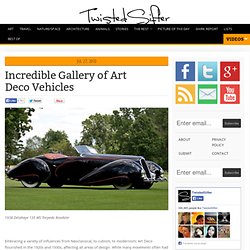 While many movements often had political or philosophical roots, Art Deco was purely decorative. Architecturally, the two most popular examples are the Empire State Building and the Chrysler Building, both in New York City. Comprehensive Specifications, Galleries & Forums since 1996. ROAD MARVELS Extraordinary cars from b. Alfa Romeo 8C 2900 B Corto Touring Berlinetta In line 8 cylinders 2,9 liters engine Only 20 cars were built between 1937 abd 1939.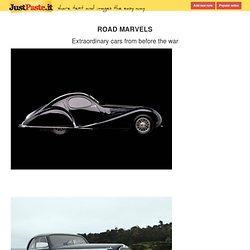 The model shown won the 2008 "Concours d'Elegance" at Pebble Beach. Bucciali TAV 8-32 Saoutchik 'Fleche d'Or' Berline. 1965 Shelby Cobra Phantom Roadster op FUNDALIZE.com. Selling It All to Roam the Country in a Lamborghini | Autopia. Richard Jordan had everything he was told to want: cars, a house, a fiancé.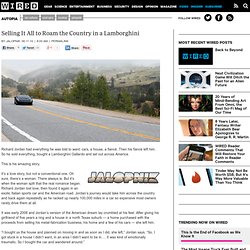 Then his fiancé left him. So he sold everything, bought a Lamborghini Gallardo and set out across America. This is his amazing story. It's a love story, but not a conventional one.
---