TOOLS
Facebook Statistics, Application Statistics, Page Statistics | Facebakers.com. A framework for measuring social media activity. Using the IAB measuremen. IAB UK Social » In social media, you have to earn it… Blog entry As Myspace prepares for a major re-launch, the IAB's Editorial Manager Stuart Aitken gets nostalgic for the future of the once mighty social network.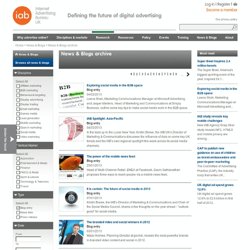 Harriet Clarke, Communications Manager for the IAB, shares insights for succeeding on Facebook from Advertising Week Europe's "Creativity in a connected world" seminar. Leena Shah, Marketing Communications Manager at Microsoft Advertising and Jasper Martens, Head of Marketing and Communications at Simply Business, outline some key tips to make social media work in the B2B space.
In the lead up to the Lunar New Year, Kristin Brewe, the IAB UK's Director of Marketing & Communications discusses the influence of Asia on some key UK trends and the IAB's own regional spotlight this week across its social media channels. HootSuite - The Professional Twitter Client. HootSuite - Social Web and Mobile Tools. Tag Galaxy. BlogPulse. Pew Research Center.
---