Social commerce
Bazaarvoice™ Social Commerce Summit London 2010. Cookies are files stored in your browser and are used by most websites to help personalise your web experience.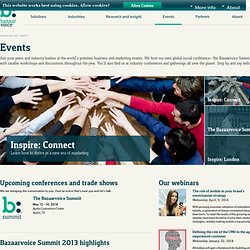 Some features on this site will not function if you do not allow cookies. Click each category for more information on the cookies this website uses. Or click 'Allow Cookies' to enable cookies and remove this message. Infographic | The Evolution of E-Commerce. The good folks at ZippyCart.com, the reviews and comparison site for e-commerce shopping carts, have put together a nice infographic (below) summarizing the evolution of e-commerce, providing a context and pointing to four trends patterning e-commerce today and in the future – social commerce, group buy, private sales and mobile commerce.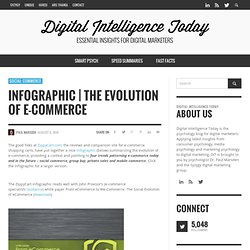 Click the infographic for a larger version. The ZippyCart infographic reads well with John Provisor's (e-commerce specialists Guidance) white paper From eCommerce to We-Commerce: The Social Evolution of eCommerce (download). We're old enough to be fans of Sting – so we'd have have bumped Pizza Hut off the infographic for the first ever [secure] e-commerce transaction in 1994 – the sale of Stings CD "Ten Summoner's Tales" for $12.48, plus shipping, on August 14, 1994 on NetMarket. But we like pizza too.
Cases
Studies. Blogs.
---