Places
The Advertising Opportunity in Facebook Places - The eMarketer Blog. On Wednesday Facebook announced its long-awaited location feature, Facebook Places.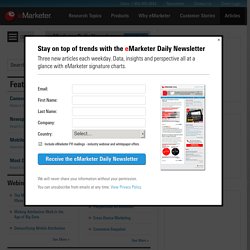 Places will let people share where they are, find friends in the same location and learn more about new places. For now, advertising isn't part of the Places rollout. Facebook, smartly, is getting people used to the idea of checking in before introducing marketing into the equation. Facebook Places From A User Perspective. There are plenty of articles and perspectives to read on Facebook Places ranging from privacy concerns to speculating what it means for marketers and business.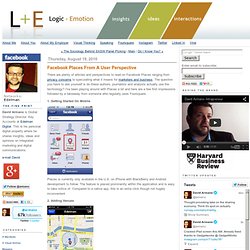 The question you have to ask yourself is do these authors, journalists and analysts actually use the technology? I've been playing around with Places a bit and here are a few first impressions followed by a takeaway from someone who regularly uses Foursquare. 1. Getting Started On Mobile. Press Release Presentation. Mark Zuckerberg, vient d'annoncer sur le tout nouveau Live Channel de Facebook, le lancement officiel de Facebook Places…Un service de géolocalisation accessible depuis l'application Facebook pour Iphone (et dans un futur proche Blackberry et Androïd) qui offre 3 fonctionalités: - Partager avec vos amis où vous êtes. - Vous aider à trouver où sont vos amis. - Vous permettre de découvrir les nouveaux lieux autour de vous..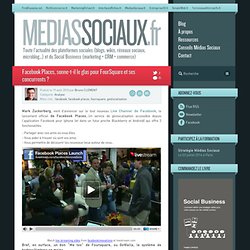 Bref, en surface, un bon "Me too" de Foursquare, ou GoWalla, le système de badges/timbres en moins… …Mais avec 2 différences fondamentales qui risquent de changer la donne ! 1- La possibilité de taguer ses amis en live. Checking In with Facebook Places. Facebook Places Launches, Allows Businesses To "Check In" Facebook has delivered a major blow to not only to Foursquare and other location-based social networks, but also to Google and Yelp.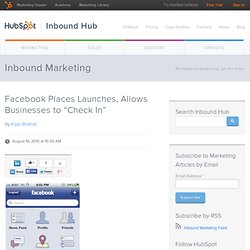 The social network has announced the launch of a major new feature: Facebook Places. We have talked many times about the adoption and marketing implications of location-based social networks on this blog in the past. However, this trend just got a lot more interesting for marketers. Facebook Places allows users to check in to offline locations similar to other location-bastion social networks.
The Places feature is available in Facebook's iPhone application as well as their HTML5 mobile site . POLL-Will You Use Facebook Places? 5 Things You Need To Know About Facebook Places Right Now. The official launch of Facebook's new location-based application, Facebook Places, has a few people talking and many of us wondering what this means for business - if anything at all.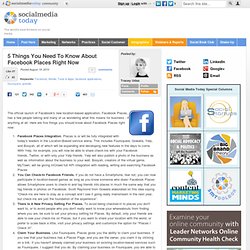 Here are five things you should know about Facebook Places right now: Facebook Places Integration. Places is or will be fully integrated with today's leaders in the Location-Based service arena. Facebook Places : tueur de Foursquare ou de vie privée ? Avec son traditionnel coup de gong, Mark Zukerberg a lancé dans la nuit une nouvelle fonctionnalité pour Facebook.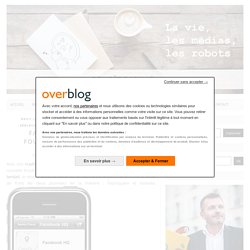 Et pas des moindres. Comme on s'y attendait, le réseau social se lance sur le marché de la géolocalisation et attaque de front les deux pionniers en la matière : Foursquare et Gowalla. Facebook Places ressemble beaucoup à Foursquare. La nouvelle fonctionnalité, disponible sur l'application iPhone de Facebook (Blackberry et Android suivront plus tard), vous permet de faire un "check-in", c'est à dire de dire à vos amis Facebook où vous êtes, mais aussi de voir ceux qui ne sont pas loin de vous.
---