Python
MyHDL - From Python to Silicon!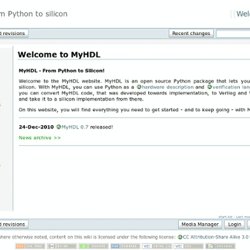 Welcome to MyHDL [MyHDL]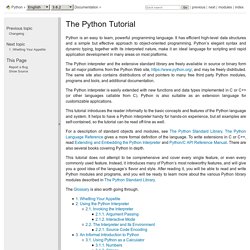 Python is an easy to learn, powerful programming language. It has efficient high-level data structures and a simple but effective approach to object-oriented programming.
DatabaseProgramming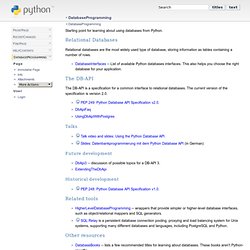 Starting point for learning about using databases from Python.
Les bases de données sont des outils de plus en plus fréquemment utilisés. Elles permettent de stocker des données nombreuses dans un seul ensemble bien structuré.
Apprendre à programmer avec Python - Club des décideurs et profe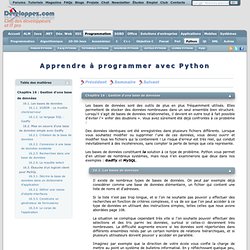 MySQL-Python
Package Index : MySQL-python 1.1.10
Package Index > MySQL-python > 1.1.10 Not Logged In MySQL-python 1.1.10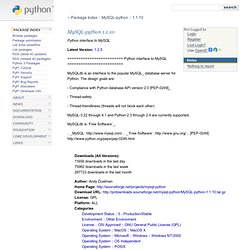 Python SQL Database Access System | Get Python SQL Database Acce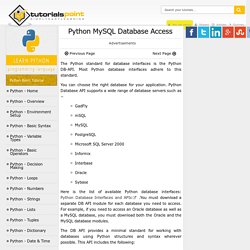 The Python standard for database interfaces is the Python DB-API. Most Python database interfaces adhere to this standard.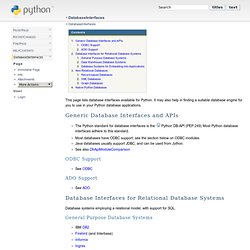 DatabaseInterfaces
This page lists database interfaces available for Python.
How to connect to a MySQL database from python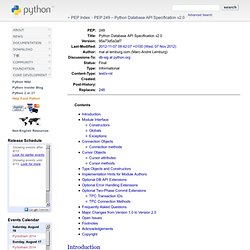 PEP Index > PEP 249 -- Python Database API Specification v2.0 This API has been defined to encourage similarity between the Python modules that are used to access databases. By doing this, we hope to achieve a consistency leading to more easily understood modules, code that is generally more portable across databases, and a broader reach of database connectivity from Python.
PEP 249 -- Python Database API Specification v2.0
Writing MySQL Scripts with Python DB-API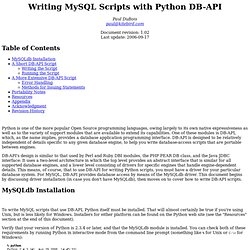 Paul DuBois paul@kitebird.com Document revision: 1.02 Last update: 2006-09-17 Table of Contents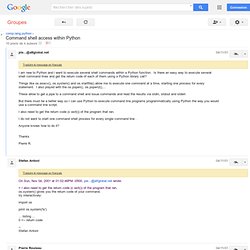 Janko Hauser wrote: > > A better way is to use the commands module. It wraps os.popen and I'm > not sure if this also didn't open a shell beforehand.
Command shell access within Python - comp.lang.python | Google G
Executing shell commands using Python in Windows